LATEST NEWS.


ARUM PROPOSES SAME SUNCORP VENUE FOR PACQUIAO-HORN REMATCH
By Maloney L. Samaco, PhilBoxing.com, Fri, 18 Aug 2017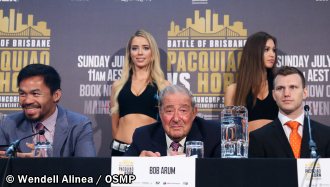 Top Rank promoter Bob Arum is optimistic of a rematch between Manny Pacquiao and Jeff Horn will be finalized in the next few days. The partners in Australia are planning the return bout to be held in November at the sam Read Full Story >>>

Floyd Mayweather Sr. Says He'll Beat a White Supremacist's Ass
PhilBoxing.com, Fri, 18 Aug 2017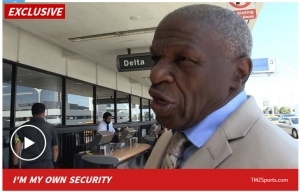 TMZ SPORTS -- He's 64 years old ... but if a white supremacist steps to Floyd Mayweather Sr., the boxing veteran says he won't hesitate to beat that ass. Floyd Sr. was flying back to Vegas after a whirlwind trip to L.A. Read Full Story >>>
Crawford: Win over Indongo makes me #1 pound-for-pound
By Wil Esco, Bad Left Hook, Fri, 18 Aug 2017
Tomorrow night Terence Crawford squares off with Julius Indongo on ESPN as both fighters seek to unify all four major titles in the junior welterweight division. Currently both fighters hold two belts apiece; Crawford has the WBC and WBO belts while Indongo has the IBF and WBA titles. During a me Read Full Story >>>
Social media barbs fooled us into taking Mayweather-McGregor contest seriously
By Paul Kent , The Daily Telegraph, Fri, 18 Aug 2017
THE business got done the way it gets done nowadays, in the cesspool of social media. Conor McGregor took a swipe. Floyd Mayweather took one back. Such was the measure of ego and opportunity neither could let the other have the final say and now we are here, eight days from the biggest fight s Read Full Story >>>
Floyd Mayweather by KO....Really?
By Phil D. Jay, World Boxing News, Fri, 18 Aug 2017
A host of top boxing personnel have thrown their weight behind a Floyd Mayweather knockout on August 26 against Conor McGregor despite the fact of the former pound for pound king being bereft of a stoppage for over a decade. Granted Mayweather does have a debated TKO on his record against Victor Read Full Story >>>
Dana White: I expect Conor McGregor to knock Floyd Mayweather out next weekend
By Gareth A Davies, Telegraph.co.uk, Fri, 18 Aug 2017
Conor McGregor versus Floyd Mayweather is on track to become the biggest fight in combat sports history, according to UFC president Dana White, who believes McGregor will knock out Mayweather when they meet next weekend. "People think Conor is going to be completely outclassed. Some people are sa Read Full Story >>>
Revealed: New data shows how panicked promoters have slashed prices for Floyd Mayweather vs Conor McGregor
By Luke Brown, Independent.ie, Fri, 18 Aug 2017
There may be less than two weeks to go until Floyd Mayweather fights Conor McGregor in one of the most lucrative fights in the history of boxing, but ticket sales for the contest remain lower than expected. The fight, which will take place at the 20,000-capacity T-Mobile Arena on the Las Vegas St Read Full Story >>>
Floyd Mayweather: Even with Joe Cortez, Conor McGregor still fights 'extremely dirty'
By Anton Tabuena , Bloody Elbow, Fri, 18 Aug 2017
Floyd Mayweather, who says he has done his "due diligence" and knows a lot of information about Conor McGregor's camp, thinks the UFC fighter is doing a lot of illegal things in sparring as he prepares for their boxing match. According to the undefeated boxer, a lot of rules were broken during McGre Read Full Story >>>
Colossal Pay Day Looms For McGregor As Mayweather Clash Set To Be Record Breaker
By Gary Brennan , Pundit Arena, Fri, 18 Aug 2017
One week out from the biggest sporting spectacle of the year and it looks like the clash between Floyd Mayweather and Conor McGregor is going to be a record breaker. Following months of speculation and a whirlwind promotional tour, the two protagonists have whipped the boxing and MMA worlds into Read Full Story >>>
Manny Pacquiao v Jeff Horn rematch to be announced 'in next few days'
BBC Sport, Fri, 18 Aug 2017
Manny Pacquiao's promoter is "optimistic" a rematch between the eight-time world champion and Jeff Horn will be confirmed in the coming days. Former schoolteacher Horn stunned the Filipino by winning the WBO world welterweight title following a unanimous points decision in July. Criticism of t Read Full Story >>>
Al Bernstein: "Manny Pacquiao demonstrated clearly against Jeff Horn that father time is starting to take it's toll on him"
By Robert Brown, OTR Boxing Radio, Fri, 18 Aug 2017
Hall of Fame boxing commentator, Al Bernstein has seen his fair share of boxing events and has called some of the biggest in the history of the sport. He was on the broadcast team for Mayweather vs. Pacquiao, which went on to become the highest grossing event of all-time. On August 26th, Al will onc Read Full Story >>>
Terence Crawford-Julius Indongo: Risk All Around
By Cliff Rold, BoxingScene.com, Fri, 18 Aug 2017
Title unification was never easy. That was true well before the WBC broke away from the WBA in the 1960s. In the 1930s, the middleweight and flyweight titles had a slew of claimants to the world title. Everyone was making enough money that holding off on ultimate 'unification' took about a decade Read Full Story >>>
Chaos Eclipse: Crawford-Indongo a rare moment when boxing's bodies will align
By Norm Frauenheim, 15rounds.com, Fri, 18 Aug 2017
Unity and boxing are an unlikely complement. Link them in the same sentence and you've got something that looks, feels and sounds like an oxymoron. You know, jumbo and shrimp. But unity is part of the story Saturday in an intriguing fight for all the pieces to the 140-pound title between unknown Read Full Story >>>
Terence 'Bud' Crawford-Julius Indongo title bout's impact is both global and for Nebraska
By Tony Boone, Omaha.com, Fri, 18 Aug 2017
When the talking was done, the two champions moved to the front of the stage with their hardware. Terence "Bud" Crawford, with the multi-colored Ring magazine belt around his waist, stood on one side with the dark red WBO belt slung over his right shoulder and the green WBC one dangling from his Read Full Story >>>
Floyd Mayweather says his legacy is on the line in Conor McGregor showdown in Las Vegas next week
By Jack Bezants, Mail Online (UK), Fri, 18 Aug 2017
Floyd Mayweather says he is putting his 'legacy on the line' by stepping into the boxing ring to face Conor McGregor. The 40-year-old is in pursuit of a landmark 50th career victory from as many fights when he faces UFC fighter McGregor in Las Vegas on August 26. And while Mayweather is the st Read Full Story >>>
Floyd Mayweather: Conor McGregor fight 'my last one'
By Agence France Press, IrishTimes.com, Fri, 18 Aug 2017
Floyd Mayweather has revealed he has promised his children that his August 26 fight with Conor McGregor will be his last. The undefeated 40-year-old will fight for the 50th time as a professional when he faces boxing debutant McGregor at light-middleweight at Las Vegas' T-Mobile Arena later this Read Full Story >>>
Floyd Mayweather vows to party "the entire week" ahead of Conor McGregor showdown in Las Vegas
By Liam Prenderville, mirror.co.uk, Fri, 18 Aug 2017
Floyd Mayweather insists he will party right up until next weekend's showdown with Conor McGregor. The pair will finally end months of trash-talking when they enter the ring in Las Vegas on August 26. ADVERTISEMENT Mayweather remains the huge favourite for the fight as he puts his unbeaten Read Full Story >>>
'Belfast or Dublin, live on ESPN': Bob Arum eyeing massive homecoming for Michael Conlan
By Gavan Casey, The 42, Fri, 18 Aug 2017
BOB ARUM SAYS Top Rank have their eyes on a homecoming fight for Michael Conlan "in the first six months" of 2018, and believes the Belfast super-bantamweight can emulate Manny Pacquiao in accruing a massive Mexican fanbase Stateside. The two-time Olympian and former amateur world champion has he Read Full Story >>>
Roach Says He'll Pick Sparring Partners for Pacquiao This Time
By Steve Kim, BoxingScene.com, Fri, 18 Aug 2017
According to Top Rank's CEO Bob Arum ,a deal is very close to being struck for a rematch between Jeff Horn and Manny Pacquiao that will take place in the month of November in Australia. Back on July 1st, Horn scored a major upset by defeating the Filipino icon and taking the WBO welterweight titl Read Full Story >>>
Julius Indongo, fighting to make history, learned how to box without ever wearing gloves
By Kevin Iole, Yahoo! Sports, Fri, 18 Aug 2017
The bell sounded and Julius Indongo made his way out of his corner for his first boxing match. He was just 17 and had gotten hooked on the sport five years earlier when he lay in his bed holding a transistor radio to his ear, listening to the blow-by-blow of a boxing broadcast. The flow of the ac Read Full Story >>>
Terence Crawford Vs. Julius Indongo: Forbes' Boxing Expert Predictions
By Brian Mazique, Forbes.com, Fri, 18 Aug 2017
The Terence "Bud" Crawford (WBO and WBC champion) vs. Julius "The Blue Machine" Indongo (WBA and IBF champion) fight on Saturday in Nebraska is an intriguing one, and it's not just because it's a complete title unification bout in the 140-pound division–or even because Crawford's rising star power h Read Full Story >>>
McGregor's Momentous Chance—Who Needs Luck of the Irish?
By Marc Livitz, Boxing.com, Fri, 18 Aug 2017
"I'm very happy and looking forward to when the contest is all wrapped up. I'll relax on my yacht and do the 'counting game'…" The UFC brass seems to know how to treat its fans. In the case of boxing and the media, the lead up to a high profile contest usually includes a conference call or two to Read Full Story >>>
CANELO IS SLIGHT UNDERDOG AGAINST GGG
By Maloney L. Samaco, PhilBoxing.com, Fri, 18 Aug 2017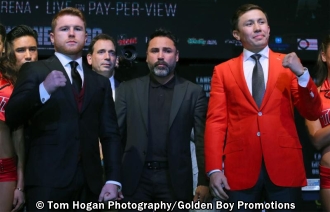 Mexico's Saul "Canelo" Alvarez (49-1-1, 34 KOs) is a slight underdog (+125) with about a month to go before his much anticipated fight against Kazakhstan's Gennady "GGG" Golovkin (37-0, 33 KOs).The scheduled 12-r Read Full Story >>>
PHILIPPINES WILL HOST 30TH SEA GAMES IN 2019
By Eddie Alinea, PhilBoxing.com, Fri, 18 Aug 2017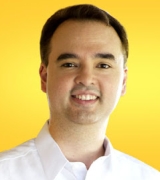 Sec. Cayetano. Foreign Affairs Secretary Peter Cayetano announced yesterday that the Philippines is pushing through with the hosting the 30th Southeast Asian Games two years from now. The former senator also assert Read Full Story >>>
GOLDEN BOY BOXING ON ESPN: ALBERTO "EXPLOSIVO" MACHADO AND CARLOS "THE SOLUTION" MORALES OFFICIAL WEIGHTS FOR AUG. 18 SHOW
PhilBoxing.com, Fri, 18 Aug 2017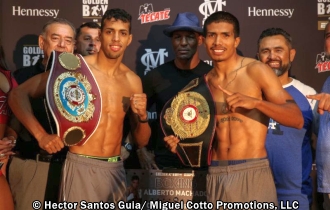 Machado vs. Morales is a 10-round fight for the NABO and NABA super featherweight titles, promoted by Golden Boy Promotions and Miguel Cotto Promotions. The event is sponsored by Tecate, BORN BOLD and Hennessy, never Read Full Story >>>
Unbeaten Rising Contender David Benavidez & Hard Hitting Ronald Gavril Battle for Vacant WBC Super Middleweight World Title
PhilBoxing.com, Fri, 18 Aug 2017
LAS VEGAS (August 17, 2017) - Unbeaten rising star David Benavidez and powerful contender Ronald Gavril will battle for the vacant WBC Super Middleweight World Championship on Friday, Sept. 8 live on SHOWTIME in the headlining attraction of a Premier Boxing Champions event from The Joint at Hard Roc Read Full Story >>>
Arum eyes Nov. 12 for Pac-Horn 2
By Nick Giongco, Tempo, Fri, 18 Aug 2017
Taking into account Manny Pacquiao's Senate schedule, Hall of Fame promoter Bob Arum has penciled Nov. 12 as the date of the fighting Filipino lawmaker's rematch with Australian banger Jeff Horn. The likely venue: Suncorp Stadium in Brisbane. A canopy that can provide protection to the ring an Read Full Story >>>
Terence Crawford vs Julius Indongo – Ringnews24 Writers' & Fans' Predictions
By James Tonks, RingNews24, Fri, 18 Aug 2017
Fight Preview Terence Crawford and Julius Indongo will clash on August 19 in Lincoln, Nebraska in a huge five-title unification match-up. Crawford's WBC and WBO belts will be on the line along with Indongo's WBA World, IBF and IBO in an opportunity to say without question who is the undisputed ki Read Full Story >>>
Namibian vs Nebraskan: Fight of unbeaten 140-pounders
By Associated Press, TheSpec.com, Fri, 18 Aug 2017
OMAHA, Neb. — Terence Crawford had never heard of Julius Indongo until nine months ago. Neither had the rest of the boxing world outside the small African nation of Namibia. That was before Indongo's stunning knockout of Russian Eduard Troyanovsky in the opening minute in Moscow. The 34-year-old Read Full Story >>>
Canelo Alvarez: 'There isn't any fear'
By George Gigney , BoxingNews, Fri, 18 Aug 2017
MEXICAN superstar Canelo Alvarez insists he holds no fear whatsoever over his upcoming clash with unified middleweight champion Gennady Golovkin. The former two-weight king will fight at 160lbs for the first time against 'GGG' at the T-Mobile Arena in Las Vegas, in what is this year's best fight Read Full Story >>>
Floyd Mayweather-Conor McGregor sales on record-breaking clip
By Darren Rovell, ESPN.com, Fri, 18 Aug 2017
The Floyd Mayweather-Conor McGregor megafight is on pace to become an unprecedented success in revenue and viewership, according to the UFC's president and the co-president of the promotion's parent company. "This is the biggest event that has ever happened in combat sports," Dana White, speaking Read Full Story >>>
Mayweather vs McGregor: Who benefits from 8oz gloves?
By James Dielhenn, SkySports.com, Fri, 18 Aug 2017
The perception is that 8oz gloves favour the big-punching Conor McGregor, but has he been duped by a trademark Floyd Mayweather ploy? "He halved his time," McGregor asserted. "Now the gloves are 8oz, I don't believe he makes it out of the second round." Ten ounces of padding on McGregor's knuc Read Full Story >>>
Mayweather v McGregor Undercard – Preview
By Lee Skavydis, RingNews24, Fri, 18 Aug 2017
Mayweather v McGregor undercard preview – August 26th, 2017. Wales' own Nathan Cleverly will be defending his WBA light-heavyweight title against Sweden's Badou Jack. Cleverly looked revitalised when he stopped Jurgen Brahmer last October after being out of the ring for almost a year. Jack is Read Full Story >>>
Floyd Mayweather reveals he really doesn't like Conor McGregor ahead of Las Vegas showdown
By Ollie Salt , Express.co.uk, Fri, 18 Aug 2017
The boxing great is all set for a money-spinning showdown with UFC star McGregor in Las Vegas on August 26th. But after a series of fiery press conference tours, by where the pair went back and fourth with verbal tirades, many have doubted whether the animosity on show is authentic. Mayweather Read Full Story >>>
Pagara ready to show off against Ghana's Djarbeng in Pinoy Pride 42
By Dale Rosal, Cebu Daily News, Fri, 18 Aug 2017
Jason "El Niño" Pagara, a top contender in the WBO junior welterweight division, has not fought for a world title ever. This is the reason why on Sept. 16, the 19-year-old Maasin City native will do his best to prove he is worthy of a shot. Pagara will fight Richmond Djarbeng of Ghana in one o Read Full Story >>>
Pagara to face Djarbeng in September for PP 42
Sun.Star Cebu, Fri, 18 Aug 2017
JASON "El Niño" Pagara will be back on the ring after 10 months and will face lethal foe in Richmond Djarbeng of Ghana in one of the three main events of the Pinoy Pride 42: Clash for Glory at the Waterfront Cebu City Hotel and Casino on Sept. 16. "I'm very determined for this fight. This is impo Read Full Story >>>
The Changing Face of 175: Who's Coming for Andre Ward?
By Paul Magno, Boxing.com, Fri, 18 Aug 2017
Will the next wave of light heavyweights pull Ward from his throne or will "SOG" leave the division behind before anyone can best him? Everything can change in a good, solid boxing year. Around this time last year, the light heavyweight division was pretty much a two-man show with Sergey Koval Read Full Story >>>
Pinoy Pride 42: Jason Pagara faces Richmond Djarbeng of Ghana; Complete Undercard Lineup Bared
By Dong Secuya, PhilBoxing.com, Thu, 17 Aug 2017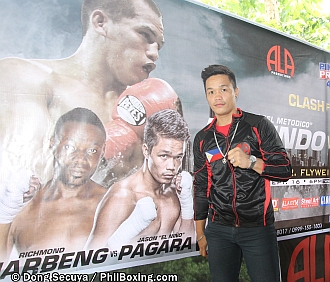 Cebu City – Filipino super lightweight contender Jason Pagara will meet Richmond Djarbeng of Ghana on the co-feature bout of the Milan Melindo vs Hekkie Budler IBF world Jr. Flyweight Championship on 'Pinoy Pride 42: Cla Read Full Story >>>
Terence Crawford / Julius Indongo Fight Week Interview Transcript
PhilBoxing.com, Thu, 17 Aug 2017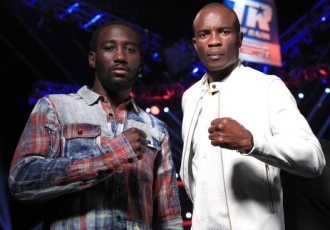 WBC & WBO Jr. Welterweight Champion Terence Crawford with Trainer Brian McIntyre and Top Rank President Todd duBoef / IBF & WBA Jr. Welterweight Champion Julius Indongo with co-promoter and manager Nestor Tobias and Matc Read Full Story >>>
Floyd Mayweather Sr. Rips Justin Bieber, 'He Don't Know Boxing!'
PhilBoxing.com, Thu, 17 Aug 2017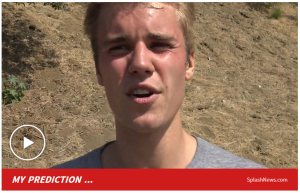 TMZ SPORTS -- Floyd Mayweather Sr. is coming out swingin' at Justin Bieber -- saying the pop star doesn't know a DAMN THING about boxing if he thinks Conor's gonna go the distance. Remember, Bieber -- Floyd Jr.'s longtime Read Full Story >>>
Jeff Horn urges fight promoters to set up rematch with Manny Pacquiao
By Greg Davis, Townsville Bulletin, Thu, 17 Aug 2017
WORLD boxing champion Jeff Horn is happy to take any judging drama out of the equation in the possible rematch with Manny Pacquiao. The two remaining sticking points before a return bout for the WBO welterweight belt can be locked in are a venue and the selection and vetting of judges for the fig Read Full Story >>>
Mayweather-McGregor: Economics of the fight
By Kevin Iole, Yahoo! Sports, Thu, 17 Aug 2017
LAS VEGAS – A week before his first UFC bout, Conor McGregor cashed a social welfare check in Ireland for 180 euros. On Aug. 26 at T-Mobile Arena – four years, four months and 21 days since his UFC debut against Marcus Brimage on April 6, 2013, in Stockholm, Sweden – McGregor will fight once agai Read Full Story >>>
Why Conor McGregor believes he'll end Floyd Mayweather's undefeated record
By Jesse Granger, Las Vegas Sun, Thu, 17 Aug 2017
Floyd Mayweather's 49-0 boxing record is littered with win against sport's legends. Oscar De La Hoya, Marcos Maidana, Canelo Alvarez, Miguel Cotto, Shane Mosley and Manny Pacquiao all lay in Mayweather's wake during his undefeated career spanning two decades. But mixed martial artist Conor McG Read Full Story >>>
UFC boss Dana White: Numbers show Mayweather vs McGregor will "kill" pay-per-view revenue records
By Joe Hall, City AM, Thu, 17 Aug 2017
UFC president Dana White expects next week's Floyd Mayweather vs Conor McGregor bout to be the most lucrative event in fight history. The undefeated Mayweather takes on on MMA star McGregor, making his professional boxing debut, in a much-hyped meeting between the two codes' biggest stars at Las Read Full Story >>>
Game of the Warriors: Clavite vs Lauro August 26 in Bacoor, Cavite
By Carlos Costa, PhilBoxing.com, Thu, 17 Aug 2017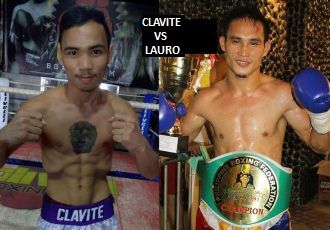 "Game of the Warriors" is ON for Saturday August 26 @ Quibors Gym in Bacoor, Cavite, featuring eight pro fights between tough warriors willing to engage for the entertainment of boxing fans in the area. In the main event, Read Full Story >>>
Thai fighter determined to steal Bornea's belt
PhilBoxing.com, Thu, 17 Aug 2017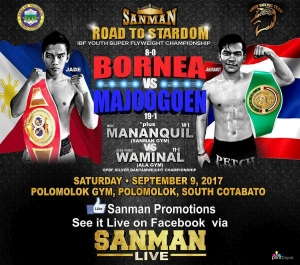 JADE Bornea may yet to taste a single loss but as far as Jakkrawut Majoogoen is concerned, the Filipino boxer has not proven anything yet. The Thailander Majoogoen expressed confidence of going home victoriou Read Full Story >>>
Roach is Confident That Miguel Cotto Will Knock Kamegai Out
By Steve Kim, BoxingScene.com, Thu, 17 Aug 2017
On August 26th, former four division champion Miguel Cotto will be facing Yoshihiro Kamegai at the StubHub Center in Carson, California. Cotto (40-5, 33 KO's) says this will be his last year in the sport of boxing and in the Japanese boxer he's facing a durable and rugged opponent. The contest is Read Full Story >>>
As sales and interest rise, McGregor says Mayweather will fall — fast
By Morgan Campbell, The Star (CA), Thu, 17 Aug 2017
Ten days ahead of the boxing match between future hall-of-famer Floyd Mayweather and UFC champion Conor McGregor, stakeholders are adjusting projections upward. Ticket sales, pay-per-view buys and overall revenue are all headed north, they say. Meanwhile McGregor, a 29-year-old who has never b Read Full Story >>>
Sugar Shane Mosley Says He Retired from Boxing Due to Botched Elbow Surgery
By Joseph Zucker, BleacherReport.com, Thu, 17 Aug 2017
Boxing legend Shane Mosley told ESPN.com's Dan Rafael on Tuesday that he has retired from the sport, and he blamed a botched elbow operation as the reason behind his decision. Mosley said Wednesday he had looked ahead to fights in 2017 and 2018 before "fate, if you will, stepped in," per Rafael: Read Full Story >>>
MIGUEL COTTO AND UNDERCARD FIGHTERS LOS ANGELES MEDIA WORKOUT QUOTES
PhilBoxing.com, Thu, 17 Aug 2017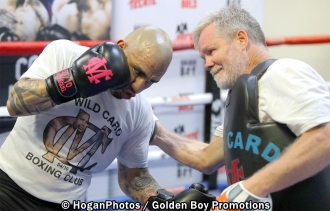 ACTION PACKED EVENT WILL TAKE PLACE AUG. 26 AT STUBHUB CENTER IN CARSON, CALIF. AND TELEVISED LIVE ON HBO WORLD CHAMPIONSHIP BOXING® LOS ANGELES (Aug. 16, 2017) Former four-division world champion Miguel Cotto (40-5, Read Full Story >>>
"KUMBINASYON"


Filipino boxing legend Manny Pacquiao resumes his regular column at PhilBoxing.com and now Bandera to express his own thoughts and to be able to communicate to his fans worldwide.


Latest posts from the Forum...
Philippine time (GMT +8)

New members, please read the FORUM RULES before you post.
Not yet a member? Click HERE to register.


phillyboxing: Video: Alberto Machado vs Carlos Morales – Weigh In, 11:11 pm, 08-18-17



mysql: RP Basketball...The Road Back At The Top of Asia 2017, 8:51 pm, 08-18-17



paragtasnim11: @ SKY TV @ Terence Crawford vs Julius Indongo Live Online, 8:37 pm, 08-18-17



Lifer: Vincent Chot Reyes should be fired, 6:12 pm, 08-18-17



theboxer69: RP Basketball...The Road Back At The Top of Asia 2017, 5:24 pm, 08-18-17



imakaiw: * PROJECT: WC Candidates Tournament Qualifier Wesley So, 5:16 pm, 08-18-17



radeon: RP Basketball...The Road Back At The Top of Asia 2017, 4:27 pm, 08-18-17



miron_lang: ****OFFICIAL SMART GILAS NT THREAD****, 2:35 pm, 08-18-17



Palamu_Ninja: Should we make a GILAS team in the pba ?, 1:55 pm, 08-18-17



Keep Punching: Pilipinas basketball at an all-time high, 12:37 pm, 08-18-17



Keep Punching: Vincent Chot Reyes should be fired, 12:32 pm, 08-18-17



manila_hits: Pacquiao vs Horn 2: Araneta, Philippine Arena, or MOA?, 12:20 pm, 08-18-17



manila_hits: International Basketball Tournaments in Manila for Gilas?, 12:13 pm, 08-18-17



phillyboxing: Chaos Eclipse: Crawford-Indongo a rare moment when boxing's, 12:09 pm, 08-18-17



manila_hits: Vincent Chot Reyes should be fired, 12:01 pm, 08-18-17



wesley_sy: * PROJECT: WC Candidates Tournament Qualifier Wesley So, 11:30 am, 08-18-17



chitotwothousandseven: ****OFFICIAL SMART GILAS NT THREAD****, 11:25 am, 08-18-17



wesley_sy: Vincent Chot Reyes should be fired, 11:24 am, 08-18-17



wesley_sy: Vincent Chot Reyes should be fired, 11:24 am, 08-18-17



pilyo2bay: Pilipinas basketball at an all-time high, 11:13 am, 08-18-17



pilyo2bay: Vincent Chot Reyes should be fired, 11:11 am, 08-18-17



mhaylove: Vincent Chot Reyes should be fired, 10:56 am, 08-18-17



theDon: Pilipinas basketball at an all-time high, 9:51 am, 08-18-17



psi: Vincent Chot Reyes should be fired, 9:42 am, 08-18-17



kartog: * PROJECT: WC Candidates Tournament Qualifier Wesley So, 9:02 am, 08-18-17



phillyboxing: Audio: Floyd Mayweather Media Conference Call, 9:00 am, 08-18-17



phillyboxing: Unbeaten Rising Contender David Benavidez & Hard Hitting, 8:54 am, 08-18-17



phillyboxing: ESPN Welcomes Andre Ward, Undefeated Two-Division World Cham, 8:47 am, 08-18-17



river_44: ****OFFICIAL SMART GILAS NT THREAD****, 8:47 am, 08-18-17



phillyboxing: Former World Champion Shawn Porter Withdraws from Bout With, 8:43 am, 08-18-17



whinz: ****OFFICIAL SMART GILAS NT THREAD****, 8:38 am, 08-18-17



noypinga: ****OFFICIAL SMART GILAS NT THREAD****, 8:36 am, 08-18-17



whinz: ****OFFICIAL SMART GILAS NT THREAD****, 8:33 am, 08-18-17



noypinga: ****OFFICIAL SMART GILAS NT THREAD****, 8:32 am, 08-18-17



phillyboxing: LUCIEN REID: "I'M READY FOR THE BRITISH TITLE NOW!", 8:31 am, 08-18-17



whinz: Vincent Chot Reyes should be fired, 8:29 am, 08-18-17



phillyboxing: Terence Crawford / Julius Indongo Fight Week Transcript, 8:29 am, 08-18-17



mysql: Shane Mosley officially retires, 8:29 am, 08-18-17



whinz: Pilipinas basketball at an all-time high, 8:28 am, 08-18-17



riarence: Vincent Chot Reyes should be fired, 8:25 am, 08-18-17



phillyboxing: ONE CHAMPIONSHIP ANNOUNCES FULL BOUT CARD FOR INAUGURAL EVEN, 8:23 am, 08-18-17



phillyboxing: Mayweather – McGregor to be contested in 8 ounce gloves, 8:22 am, 08-18-17



phillyboxing: Robert Byrd to referee Mayweather – McGregor, 8:15 am, 08-18-17



vicus2005: * PROJECT: WC Candidates Tournament Qualifier Wesley So, 8:13 am, 08-18-17



phillyboxing: Nicholas Walters return fight off due to illness, 8:11 am, 08-18-17



phillyboxing: Surgery gone wrong facilitated Mosley retirement, 8:06 am, 08-18-17



Romy Nabas: Pilipinas basketball at an all-time high, 7:54 am, 08-18-17



Romy Nabas: Vincent Chot Reyes should be fired, 7:53 am, 08-18-17



rizalincarnate: ****OFFICIAL SMART GILAS NT THREAD****, 6:44 am, 08-18-17



destroyer_pacman_champ: Vincent Chot Reyes should be fired, 4:46 am, 08-18-17



destroyer_pacman_champ: Pilipinas basketball at an all-time high, 4:44 am, 08-18-17



vimboy: * PROJECT: WC Candidates Tournament Qualifier Wesley So, 2:08 am, 08-18-17



TheEnigma: * PROJECT: WC Candidates Tournament Qualifier Wesley So, 1:32 am, 08-18-17



TheEnigma: * PROJECT: WC Candidates Tournament Qualifier Wesley So, 1:11 am, 08-18-17



Hubag: Vincent Chot Reyes should be fired, 9:00 pm, 08-17-17



Bench_070: Vincent Chot Reyes should be fired, 8:59 pm, 08-17-17



chitotwothousandseven: ****OFFICIAL SMART GILAS NT THREAD****, 7:13 pm, 08-17-17



Navy Blue: Vincent Chot Reyes should be fired, 5:48 pm, 08-17-17



dyey_em-si: Marquez riterment birthday cake includes Philipino surprise!, 5:39 pm, 08-17-17



ngitit: ****OFFICIAL SMART GILAS NT THREAD****, 4:28 pm, 08-17-17



nasir116: Floyd Mayweather vs. Conor McGregor Live Event Tickets Go On, 3:51 pm, 08-17-17



noypinga: ****OFFICIAL SMART GILAS NT THREAD****, 3:33 pm, 08-17-17



Retz: One-on-One with M-1 Global president Vadim Finkelchtein, 3:03 pm, 08-17-17



ryan_c: ****OFFICIAL SMART GILAS NT THREAD****, 2:55 pm, 08-17-17



Retz: LaManna and Sosa Chime in for this Saturday's WBC Silver Lat, 2:46 pm, 08-17-17



Retz: Hammer Time! World Boxing Super Series comes to the U.S. as, 2:37 pm, 08-17-17



Numero uno: ****OFFICIAL SMART GILAS NT THREAD****, 2:21 pm, 08-17-17



boxing_the_no1_sport: SPORTS FACTS AND STATS, 2:14 pm, 08-17-17



boxing_the_no1_sport: SPORTS FACTS AND STATS, 2:13 pm, 08-17-17



boxing_the_no1_sport: SPORTS FACTS AND STATS, 2:12 pm, 08-17-17



whinz: ****OFFICIAL SMART GILAS NT THREAD****, 2:07 pm, 08-17-17



Bolo_Punch: ****OFFICIAL SMART GILAS NT THREAD****, 1:41 pm, 08-17-17



imakaiw: * PROJECT: WC Candidates Tournament Qualifier Wesley So, 1:14 pm, 08-17-17



gambol: ****OFFICIAL SMART GILAS NT THREAD****, 12:49 pm, 08-17-17



phillyboxing: LaManna and Sosa Chime in for this Saturday's WBC Silver Lat, 12:16 pm, 08-17-17



phillyboxing: Hammer Time! World Boxing Super Series comes to the U.S. as, 12:11 pm, 08-17-17



psi: Vincent Chot Reyes should be fired, 11:18 am, 08-17-17



Navy Blue: Should we make a GILAS team in the pba ?, 11:15 am, 08-17-17



psi: Should we make a GILAS team in the pba ?, 11:02 am, 08-17-17



Romy Nabas: ****OFFICIAL SMART GILAS NT THREAD****, 10:40 am, 08-17-17



Romy Nabas: ****OFFICIAL SMART GILAS NT THREAD****, 10:25 am, 08-17-17



miron_lang: ****OFFICIAL SMART GILAS NT THREAD****, 9:57 am, 08-17-17



Romy Nabas: All about Charice, 9:51 am, 08-17-17



Pinoy758: ****OFFICIAL SMART GILAS NT THREAD****, 9:48 am, 08-17-17



noypinga: ****OFFICIAL SMART GILAS NT THREAD****, 9:46 am, 08-17-17



noypinga: ****OFFICIAL SMART GILAS NT THREAD****, 9:45 am, 08-17-17



noypinga: ****OFFICIAL SMART GILAS NT THREAD****, 9:39 am, 08-17-17



noypinga: ****OFFICIAL SMART GILAS NT THREAD****, 9:32 am, 08-17-17



miron_lang: ****OFFICIAL SMART GILAS NT THREAD****, 9:15 am, 08-17-17



Romy Nabas: ****OFFICIAL SMART GILAS NT THREAD****, 8:30 am, 08-17-17



ryan_c: ****OFFICIAL SMART GILAS NT THREAD****, 8:13 am, 08-17-17



the boss: ****OFFICIAL SMART GILAS NT THREAD****, 7:40 am, 08-17-17



rudge: ****OFFICIAL SMART GILAS NT THREAD****, 7:33 am, 08-17-17



boxing_the_no1_sport: ****OFFICIAL SMART GILAS NT THREAD****, 7:08 am, 08-17-17



boxing_the_no1_sport: SPORTS FACTS AND STATS, 6:18 am, 08-17-17



boxing_the_no1_sport: SPORTS FACTS AND STATS, 6:18 am, 08-17-17



boxing_the_no1_sport: SPORTS FACTS AND STATS, 6:17 am, 08-17-17



boxing_the_no1_sport: SPORTS FACTS AND STATS, 6:17 am, 08-17-17



boxing_the_no1_sport: SPORTS FACTS AND STATS, 6:17 am, 08-17-17



boxing_the_no1_sport: SPORTS FACTS AND STATS, 6:16 am, 08-17-17



boxing_the_no1_sport: SPORTS FACTS AND STATS, 6:16 am, 08-17-17



Romy Nabas: ****OFFICIAL SMART GILAS NT THREAD****, 5:50 am, 08-17-17



phillyboxing: LIVE AUDIO: Conor McGregor Media Conference Call, 5:16 am, 08-17-17



phillyboxing: One-on-One with M-1 Global president Vadim Finkelchtein, 4:53 am, 08-17-17



JoeyInCali: Mayweather is on Kimmel tonight, what did Pacquiao do?, 4:52 am, 08-17-17



phillyboxing: Shane Mosley officially retires, 4:50 am, 08-17-17



phillyboxing: Heavyweight LaRon Mitchell Sells Out Omega Products; Additio, 4:43 am, 08-17-17



mexifan: Mayweather is on Kimmel tonight, what did Pacquiao do?, 4:09 am, 08-17-17



Numero uno: Should we make a GILAS team in the pba ?, 2:03 am, 08-17-17



jhon515: ****OFFICIAL SMART GILAS NT THREAD****, 1:58 am, 08-17-17



veilside23: Should we make a GILAS team in the pba ?, 1:37 am, 08-17-17



Rodrigo Roxas III: ****OFFICIAL SMART GILAS NT THREAD****, 1:16 am, 08-17-17



gambol: ****OFFICIAL SMART GILAS NT THREAD****, 1:06 am, 08-17-17



Skillz340: ****OFFICIAL SMART GILAS NT THREAD****, 1:06 am, 08-17-17



boxing_the_no1_sport: ****OFFICIAL SMART GILAS NT THREAD****, 1:01 am, 08-17-17



mhaylove: :::::CLEVELAND CAVALIERS:::::, 12:59 am, 08-17-17



bugoyparin: ****OFFICIAL SMART GILAS NT THREAD****, 12:58 am, 08-17-17



bugoyparin: ****OFFICIAL SMART GILAS NT THREAD****, 12:56 am, 08-17-17



mhaylove: ****OFFICIAL SMART GILAS NT THREAD****, 12:54 am, 08-17-17



bugoyparin: ****OFFICIAL SMART GILAS NT THREAD****, 12:53 am, 08-17-17



boxing_the_no1_sport: ****OFFICIAL SMART GILAS NT THREAD****, 12:52 am, 08-17-17



bugoyparin: ****OFFICIAL SMART GILAS NT THREAD****, 12:51 am, 08-17-17



boxing_the_no1_sport: ****OFFICIAL SMART GILAS NT THREAD****, 12:49 am, 08-17-17



Skillz340: ****OFFICIAL SMART GILAS NT THREAD****, 12:49 am, 08-17-17



bugoyparin: ****OFFICIAL SMART GILAS NT THREAD****, 12:45 am, 08-17-17



bugoyparin: ****OFFICIAL SMART GILAS NT THREAD****, 12:45 am, 08-17-17



boxing_the_no1_sport: ****OFFICIAL SMART GILAS NT THREAD****, 12:44 am, 08-17-17



bugoyparin: ****OFFICIAL SMART GILAS NT THREAD****, 12:43 am, 08-17-17



bugoyparin: ****OFFICIAL SMART GILAS NT THREAD****, 12:43 am, 08-17-17



theboxer69: ****OFFICIAL SMART GILAS NT THREAD****, 12:42 am, 08-17-17



mhaylove: ****OFFICIAL SMART GILAS NT THREAD****, 12:42 am, 08-17-17



boxing_the_no1_sport: ****OFFICIAL SMART GILAS NT THREAD****, 12:41 am, 08-17-17



bugoyparin: ****OFFICIAL SMART GILAS NT THREAD****, 12:41 am, 08-17-17



boxing_the_no1_sport: ****OFFICIAL SMART GILAS NT THREAD****, 12:40 am, 08-17-17



theboxer69: ****OFFICIAL SMART GILAS NT THREAD****, 12:39 am, 08-17-17



mhaylove: ****OFFICIAL SMART GILAS NT THREAD****, 12:36 am, 08-17-17



boxing_the_no1_sport: ****OFFICIAL SMART GILAS NT THREAD****, 12:35 am, 08-17-17



bugoyparin: ****OFFICIAL SMART GILAS NT THREAD****, 12:34 am, 08-17-17



theboxer69: ****OFFICIAL SMART GILAS NT THREAD****, 12:33 am, 08-17-17



Skillz340: ****OFFICIAL SMART GILAS NT THREAD****, 12:32 am, 08-17-17



bugoyparin: ****OFFICIAL SMART GILAS NT THREAD****, 12:32 am, 08-17-17



theboxer69: ****OFFICIAL SMART GILAS NT THREAD****, 12:31 am, 08-17-17



boxing_the_no1_sport: ****OFFICIAL SMART GILAS NT THREAD****, 12:28 am, 08-17-17



bugoyparin: ****OFFICIAL SMART GILAS NT THREAD****, 12:28 am, 08-17-17



mhaylove: ****OFFICIAL SMART GILAS NT THREAD****, 12:27 am, 08-17-17