LATEST NEWS.


The Past Week in Action 25 July 2017
By Eric Armit, PhilBoxing.com, Wed, 26 Jul 2017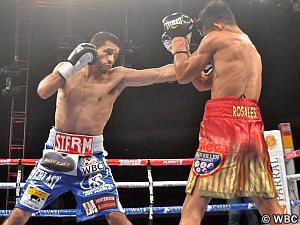 Veteran Jhonny Gonzalez (L) of Mexico stops previously undefeated Jesse Chris Rosales of the Philippines. Highlights: -Victories in title fights for Ryoichi Taguchi and Hiroto Kyoguchi with Kyoguchi's wi Read Full Story >>>

RingTV.com, powered by Flipps Media, to stream superfight between Saul 'Canelo' Alvarez and Gennady "GGG" Golovkin
PhilBoxing.com, Wed, 26 Jul 2017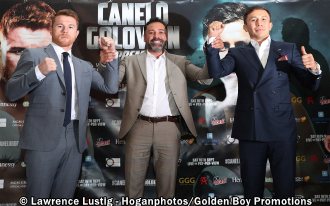 Live on PPV, Saturday, Sept. 16, from Las Vegas NEW YORK, NY(July 25, 2017) - RingTV.com and Flipps Media today announced a partnership to stream the most anticipated boxing showdown of the year, "Supremacy," on Sa Read Full Story >>>
Richard Schaefer says Nonito Donaire's next fight likely in early fall
By Dan Rafael, ESPN.com, Wed, 26 Jul 2017
Former four-division world titleholder Nonito Donaire signed a multifight promotional contract with Richard Schaefer's Ringstar Sports on Tuesday, Schaefer told ESPN. Donaire, the 2012 fighter of the year, has for years been one of boxing's best smaller-weight fighters. He won world titles in fou Read Full Story >>>
Who Likes Conor McGregor's Chances? Bettors, Mostly
By Victor Mather, The New York Times, Wed, 26 Jul 2017
Experts and pundits are in rare unanimity over the Floyd Mayweather Jr.-Conor McGregor superfight. McGregor, they say, has absolutely no chance. With the fight a month away, people are betting on it, and … what do you know? They're betting on McGregor. "The odds for this fight were first relea Read Full Story >>>
Hurry Up and Wait: The Ratings Game
By Caryn A. Tate, Boxing.com, Wed, 26 Jul 2017
If Erislandy Lara, Errol Spence, or Mikey Garcia didn't have either a title or ranking by a sanctioning body, no one would want to face them… Sanctioning bodies, which control the various championship belts and rankings, exist to give some semblance of order to boxing. The titles can give validat Read Full Story >>>
Why Ali is different to Mayweather and McGregor
By Angus Douglas, ESPN.com, Wed, 26 Jul 2017
With Floyd Mayweather and Conor McGregor trash talking each other in preparation for their 26 August bout, it's worth reflecting on the world's greatest trash talker -- Muhammad Ali. There was a time when fighters weren't expected to bad-mouth their opponents and instead did their talking in the Read Full Story >>>
Floyd Mayweather vs. Conor McGregor: Who's winning the trash talk battle?
mlive.com, Wed, 26 Jul 2017
Trash talking champions Floyd Mayweather and Conor McGregor like to talk. We all know that. But which fighter is winning the battle of words ahead of their highly-anticipated fight on Aug. 26? Finding the answer isn't exactly a science, but the staff at www.sportsbettingexperts.com have compi Read Full Story >>>
Joseph Parker towers over Floyd Mayweather in Las Vegas meet
Stuff NZ, Wed, 26 Jul 2017
As he prepares for the biggest fight of his boxing career, Joseph Parker has been rubbing shoulders with one of the greats - albeit with a height difference to negotiate. The Kiwi heavyweight has been welcomed into the camp of Floyd Mayweather Jr, who is getting ready for a big fight of his own, Read Full Story >>>
SHOWTIME SPORTS® TO DELIVER THREE SEPARATE LIVE BOXING PRESENTATIONS ON SATURDAY, JULY 29
PhilBoxing.com, Wed, 26 Jul 2017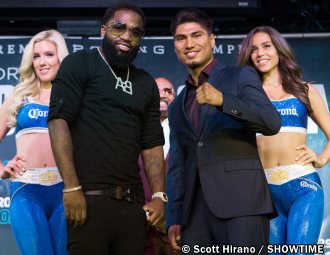 Live Coverage of Broner vs. Garcia Undercard Plus Carl Frampton Homecoming Bout Available On Digital Platforms Preceding SHOWTIME CHAMPIONSHIP BOXING® NEW YORK (July 25, 2017) – SHOWTIME Sports will offer three se Read Full Story >>>
Carmona Vs. Martinez Headline Boxeo TELEMUNDO Season Finale This Friday from Kissimmee, Florida
PhilBoxing.com, Wed, 26 Jul 2017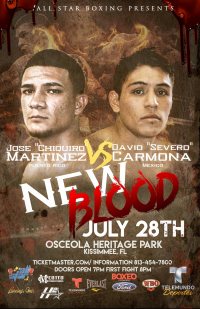 Kissimmee, Florida: The popular series Boxeo Telemundo Ford will conclude their summer season this Friday, July 28 at the Osceola Heritage Park in Kissimmee, Florida the new home of All Star Boxing in the city. In th Read Full Story >>>
Pacquiao says Horn fight his last under Top Rank contract, but mum on plans
By Gerry Ramos, Spin.ph, Wed, 26 Jul 2017
MANNY Pacquiao insisted the recent fight he had against Jeff Horn for the World Boxing Organization (WBO) welterweight title was his last under his current contract with Top Rank. Don't expect the boxing legend to go elsewhere, though. The 38-year-old Filipino put on record that he has no issu Read Full Story >>>
Floyd Mayweather-Conor McGregor tilt headed to movie theaters
By Dan Rafael, ESPN.com, Wed, 26 Jul 2017
Those who don't feel like forking over the $100 or so for the pay-per-view in order watch the junior middleweight mega fight between unretiring former pound-for-pound king Floyd Mayweather and UFC superstar Conor McGregor on Aug. 26 will have another option - watching in a movie theater for a lot le Read Full Story >>>
Saunders: No American Bum Beats Me, P*ssy Golovkin is Next!
BoxingScene.com, Wed, 26 Jul 2017
Unbeaten middleweight Billy Joe Saunders is adamant that his next challenger, Willie Monroe Jr, will not be victorious when they meet for the WBO world title. Saunders makes the second defence of his crown at the Copper Box Arena on September 16th. After a frustrating, injury-filled 2016, the Hat Read Full Story >>>
Joshua v Klitschko II: Hearn, Espinoza pushing for Nov 11 at T-Mobile Arena in Las Vegas
World Boxing News, Wed, 26 Jul 2017
Matchroom boss Eddie Hearn has concluded his scouting trip to Las Vegas and has a date in mind for a rematch between Anthony Joshua and Wladimir Klitschko. Hearn flew to the boxing capital of the world with Joshua last week to iron out a few details but is confident a second fight can happen betw Read Full Story >>>
Arum, MP rep hold exploratory talks
By Nick Giongco, Tempo, Tue, 25 Jul 2017
Hall of Fame promoter Bob Arum will start holding exploratory talks with the camp of Manny Pacquiao tomorrow in Los Angeles where the boxing icon will be represented by Canadian adviser Mike Koncz. The two are expected to talk about the future of the "Fighting Senator" following his shock defeat Read Full Story >>>
Roberto Duran on What Canelo Must Do To Beat Golovkin
BoxingScene.com, Tue, 25 Jul 2017
One of the best pound for pound fighters of all-time, Roberto Duran, believes he has the game plan of what's necessary to defeat a dangerous fighter like WBA, IBO, IBF WBC middleweight champion Gennady Golovkin (37-0, 33 KOs). On September 16th, Golovkin will defend his belts against Mexican supe Read Full Story >>>
Budler is a fighter but reckless, says former foe Canoy
By Dale Rosal, Cebu Daily News, Tue, 25 Jul 2017
FOR EX-WORLD title challenger Joey Canoy, reigning International Boxing Organization (IBO) world light flyweight champion Hekkie "Hexecutioner" Budler is the perfect prey for IBF world light flyweight champion Milan "El Metodico" Melindo. Canoy (13-3-1, 6KOs) fought Budler for the IBO World Light Read Full Story >>>
Vernon Forrest: A Special Kind of Person
By Ted Sares, Boxing.com, Tue, 25 Jul 2017
"These are people that society turned their back on. Everybody needs help and everybody needs love…" "If you sit there and watch a person take about an hour to tie his shoestrings, then you realize that whatever problems you got ain't that significant."—Vernon Forrest Known as the "Viper" beca Read Full Story >>>
NEW STARS, STUNNING KO'S AND A TITLE CHALLENGE
PhilBoxing.com, Tue, 25 Jul 2017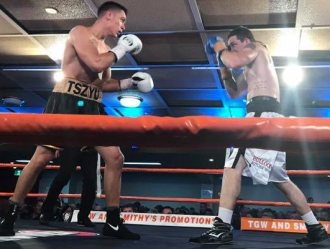 STARS WERE BORN, REPUTATIONS ENHANCED, FUNDS WERE RAISED AND TITLE CHALLENGERS EMERGED. There was a bit of everything at TGW & Smithy Bring the Big Fights 17 on Saturday night. In front of a bumper crowd of 2000 spectators - a Read Full Story >>>
Sanman's Tabugon to fight unbeaten Australian fighter on Aug. 19
PhilBoxing.com, Tue, 25 Jul 2017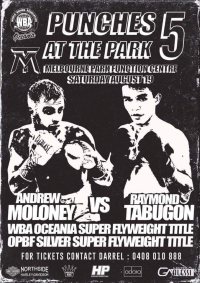 A DAUNTING mission awaits Raymond Tabugon of the Sanman Boxing Gym as he is set to face unbeaten Australian fighter Andrew Moloney in "Punches at the Park 5" on August 19 at the Melbourne Park Function Centre in Victoria Read Full Story >>>
Daniel Cormier Says Jon Jones Is UFC's G.O.A.T. ... Until I Beat Him
PhilBoxing.com, Tue, 25 Jul 2017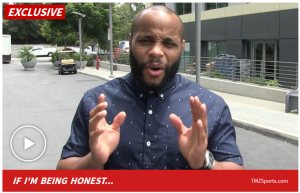 TMZ SPORTS -- Jon Jones wasn't crazy when he called himself the greatest UFC fighter of all time ... at least according to Daniel Cormier who says ya just can't argue with Jon's resume. "His level of competition is unmat Read Full Story >>>
Adrien Broner has been mostly hype, but in one way he is among the all-time greats
By Kevin Iole, Yahoo! Sports, Tue, 25 Jul 2017
Only 16 boxers in history have won a major world title in four separate weight divisions, though the fact that six of them remain active might speak to how much easier the feat is to accomplish these days. No matter, though, because it's only been done 16 times, it's significant nonetheless given Read Full Story >>>
Preparation for Supremacy: Canelo vs. Golovkin
By Shelbi Keyes, Round by Round Boxing, Tue, 25 Jul 2017
We are less than two months away from "Supremacy: Canelo vs. Golovkin," the Middleweight world championship fight that features two of boxings best in Canelo Alvarez and Gennady Golovkin. Canelo vs. Golovkin will take place at the T-Mobile Arena in Las Vegas, Nevada on September 16, 2017. This Read Full Story >>>
GUNNER GATLING PRESENTS: Kiss of Death
By John Gatling, NYFights.com, Tue, 25 Jul 2017
Hers was a mixture of death and eternity. Just outside of the fighter dressing rooms at Barclays Center in Brooklyn on March 4, with a clear visual of the ring to witness Andrjez Fonfara V Chad Dawson, I stood suspended, flanked by the editor of NY Fights, Michael Woods, while engaged in discussi Read Full Story >>>
Canelo-Golovkin 24/7 To Debut on August 26, on HBO
PhilBoxing.com, Tue, 25 Jul 2017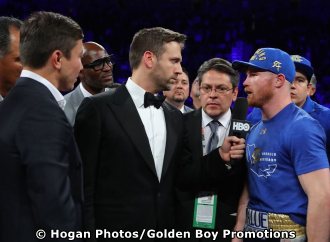 HBO Sports' groundbreaking "24/7" reality franchise, which has captured 18 Sports Emmy® Awards, will return for its 23rd multi-part boxing installment with 24/7 CANELO/GOLOVKIN, it was announced today by Rick Berns Read Full Story >>>
Chivas Regal Partners With Middleweight Champion Gennady "GGG" Golovkin To Launch The Chivas® Fight Club
PhilBoxing.com, Tue, 25 Jul 2017
NEW YORK, July 24, 2017 /PRNewswire/ -- Chivas Regal, the world's first luxury whisky, is aiming to inspire a new generation while making a positive impact on the lives of others by introducing The Chivas® Fight Club. This initiative extends to every individual with a fighting spirit from communiti Read Full Story >>>
Alexander Volkov: "Mikhail Zayats is now hungry for battles, I'm looking forward to his triumphant victory."
PhilBoxing.com, Tue, 25 Jul 2017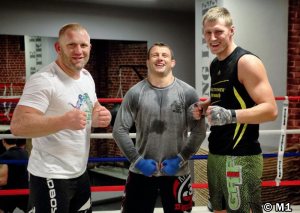 M-1 Challenge 82, Aug. 5, in Helsinki, Finland (MMA heavyweight star Alexander Volkov recently spoke about the preparation of his teammate, Mikhail Zayats (22-8-0, M-1: 12-5-0), for his M-1 Challenge 82 main event fight vs. Marc Read Full Story >>>
RAGING BABE BRUNCH RETURNS SEPTEMBER, 16TH
PhilBoxing.com, Tue, 25 Jul 2017
PROCEEDS TO BENEFIT PRICHARD COLON FOUNDATION LAS VEGAS - July 24, 2017 - September, 16th is a huge day for boxing in Las Vegas, with Saul "Canelo" Alvarez facing Gennady "GGG" Golovkin in a must-win contest for the king of the middleweight division. As boxing's elite descend on the Las Vegas Str Read Full Story >>>
YOUNAN FEATURED ON 'KO NIGHT BOXING: RUMBLE ON THE WATER 2'
PhilBoxing.com, Tue, 25 Jul 2017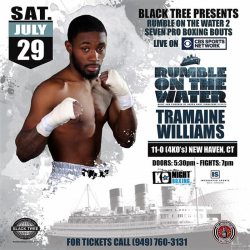 Undefeated Brooklyn light heavyweight prospect Junior "The Young God" Younan to be showcased in "KO Night Boxing: Rumble on the Water 2" co-feature July 29 on CBS Sports Network, live from The Queen Mary LONG BEACH. Read Full Story >>>
Steve Farhood: "If Floyd Mayweather can go for the knockout on McGregor and views that as very low risk, he'll do it!"
By Jenna Jay, OTR Boxing Radio, Tue, 25 Jul 2017
Steve Farhood is a boxing commentator for Showtime sports and is now a member of the international boxing hall of fame, after being enshrined this June. Farhood has worked in the sport for over 30 years and is most known for his work on the series "ShoBox", which has produced many of the world champ Read Full Story >>>
Mike Tyson is positive that Conor McGregor is 'going to get killed boxing' Floyd Mayweather
By Andrew Joseph, USA Today, Tue, 25 Jul 2017
The "world tour" is over, and we're now closing in on a month until Conor McGregor's Aug. 26 fight against Floyd Mayweather. By now, most of the boxing world has weighed in on the fight. Very few think McGregor, who has never boxed professionally, has any chance of handing Mayweather the first lo Read Full Story >>>
Joe Cortez in Conor's Corner
By Robert Ecksel, Boxing.com, Tue, 25 Jul 2017
"My role will be to prepare McGregor so that he does not commit any breach of the rules on the day of the fight…" Conor McGregor hopes to scale Mt. Everest on August 26 at the T-Mobile Arena in Las Vegas, Nevada, but knows he can't do it alone. Paulie Malignaggi has joined his camp, doing his Read Full Story >>>
The Top 10 Pay-Per-View combat sports events of all time
World Boxing News, Tue, 25 Jul 2017
Ahead of what is projected to be the most lucrative fight of all time, WBN looks at the Top 10 Pay-Per-View's in combat sports. As the Ultimate Fighting Championship continues to gather pace, Dana White's organization now holds three positions of those ten said events. Boxing's grip on the pay Read Full Story >>>
Broner vs. Garcia: A Good Kind of Nonsense
By Paul Magno, Boxing.com, Mon, 24 Jul 2017
In some ways, Broner-Garcia is just as nonsensical as Mayweather-McGregor—maybe even more so… On the surface, this Saturday's Adrien Broner vs. Mikey Garcia bout doesn't make a damn bit of sense. Actually, when the rumor of the fight first surfaced, it seemed to be utter nonsense. Why would Ga Read Full Story >>>
Conor McGregor's latest recruit proves he's taking Floyd Mayweather very seriously
By Ben Kiely, SportsJoe.ie, Mon, 24 Jul 2017
Conor McGregor is obsessing over his professional boxing debut, although that's hardly surprising. For Conor McGregor's first dip in the pro pugilism pool, he's diving head first into the deepest possible end. Undefeated prizefighter Floyd Mayweather will welcome him to the ring inside the T-M Read Full Story >>>
From Muhammad Ali to Rocky Balboa: The Reyes have been handcrafting gloves for legends
By Agence France Press, Hindustan Times, Mon, 24 Jul 2017
In a boxing world often dominated by promoters, self-promoters and glitz, Alberto Reyes likes to do things the old-fashioned way: his company still makes gloves by hand, just as it did for Muhammad Ali. The Mexican craftsman is the owner of Cleto Reyes boxing gloves, a family firm founded by his Read Full Story >>>
A REVIVAL TO REKINDLE LOST GLORY
By Felman Gingoyon, PhilBoxing.com, Mon, 24 Jul 2017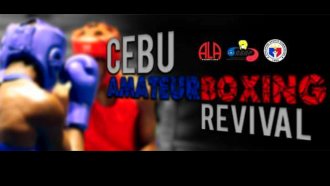 The maiden edition of Cebu Amateur Boxing Revival is set to take place on the 5th of August. Venue will be the scenic Capitol grounds in front of the gorgeous facade of Cebu Provincial Capitol. Fights start a Read Full Story >>>
Jessie Magdaleno vs. Cesar Juarez Clash is Close For October
By Miguel Rivera, BoxingScene.com, Mon, 24 Jul 2017
At the negotiating table is the potential showdown between World Boxing Organization super bantamweight champion Jessie Magdaleno and mandatory challenger Cesar 'Corazón' Juarez of Mexico, tentatively scheduled for October 31. Luis Zápari, promoter of Juarez, reveals that an agreement is in place Read Full Story >>>
Boxers get lift from GAB, DOH
By Joaquin Henson, PhilBoxing.com, Mon, 24 Jul 2017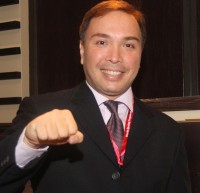 Mitra. GAB chairman Abraham Mitra said the other day he hopes to finalize a Memorandum of Understanding with the Department of Health (DOH) soon in assuring free medical benefits for the country's 1,054 professional boxers whi Read Full Story >>>
Canelo Alvarez—Where Would a Victory Over Golovkin Place Him?
By Marc Livitz, Boxing.com, Mon, 24 Jul 2017
Aside from the Mayweather debacle, Canelo's biggest challenge is set to take place in less than two months… Many signs are beginning to point to a great night of boxing in Las Vegas on Saturday, September 16. For the purposes of this article, we'll exclude the circumstantial evidence tied to an e Read Full Story >>>
It Seems Like Sports Can't Sink Much Lower Than Mayweather-McGregor. But Just Wait.
By Will Leitch, New York Magazine, Mon, 24 Jul 2017
When you sign up for life as a sports fan, you are knowingly introducing darkness and moral complication into your life: To look clearly at the world of sports is to want to look away. Greedy owners jacking up ticket prices at billion-dollar concrete monstrosities they conned taxpayers into buying f Read Full Story >>>
SANMAN LIVE GETS POSITIVE RESPONSE FROM BOXING FANS
By Rene Bonsubre, Jr., PhilBoxing.com, Mon, 24 Jul 2017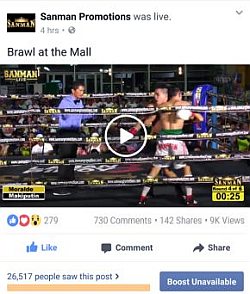 Sanman Promotions of Gen.Santos City staged a fight card Sunday that was broadcast live on the internet on their Facebook page. This is part of their effort to bring the fight cards to a bigger audience. BRAWL AT THE MALL: CO Read Full Story >>>
Kriel Outpoints Alimento in South Africa
By Carlos Costa, PhilBoxing.com, Mon, 24 Jul 2017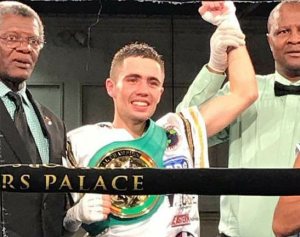 Kriel (C) wins. South African Deejay Kriel (12-1-1, 6 KO's) scored a 12-round unanimous decision win over Filipino Dexter Alimento (12-2, 8 KO's) to claim the vacant WBC International Minimumweight Title Sunday evening (July Read Full Story >>>
Eddie Alvarez: If you don't think Conor can knock Floyd Mayweather out, you're an idiot
By Chisanga Malata , Daily Star (UK), Mon, 24 Jul 2017
On August 26, McGregor, the reigning UFC lightweight champion, will take on 'Money' Mayweather in a lucrative boxing match. Mayweather vs. McGregor, a fight which has split opinion in the combat sports world, takes place at the T-Mobile Arena in Las Vegas, Nevada. Much of the intrigue in the c Read Full Story >>>
Draymond Green adds attention to Conor McGregor's gag about Floyd Mayweather Jr.'s domestic violence
By Dan Feldman, Yahoo! Sports, Mon, 24 Jul 2017
Conor McGregor and Floyd Mayweather Jr. are showing nearly no limits in their effort to promote their upcoming fight. McGregor has repeatedly stoked the flames of racism, making himself a villain to some and a hero to others – but, more importantly, drawing attention from both sides. He also wore Read Full Story >>>
Our Mr. Brooks
By Pete Ehrmann, Boxing.com, Mon, 24 Jul 2017
The hands of the timid 15-year-old "Wisconsin Correspondent for Ring Magazine" were shaking much more than usual… Eddie Brooks made international headlines in 1971 by knocking down Muhammad Ali, but the Milwaukee heavyweight's most compelling performance in the ring was as an amateur in the 1966 Read Full Story >>>
Moralde triumphs; Mananquil puts on a show in "Brawl at the Mall"
PhilBoxing.com, Sun, 23 Jul 2017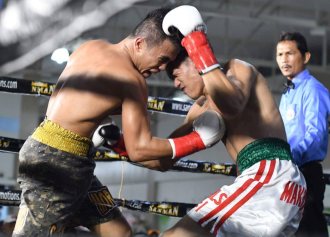 ENGELBERT Moralde halted a two-fight losing streak with a majority decision win over Jestoni Makiputin in the main event of the "Brawl at the Mall" Sunday night at Robinsons Place Atrium in General Santos City. Moral Read Full Story >>>
Undefeated Movsar Evloev New M-1 Challenge Bantamweight Champion
PhilBoxing.com, Sun, 23 Jul 2017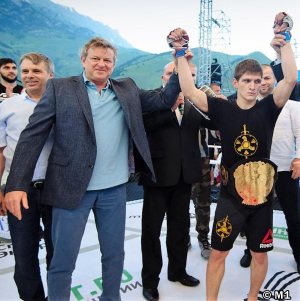 M-1 CHALLENGE 81 RESULTS INGUSHETIA, Russia (July 23, 2017 - Undefeated Movsar Evloev is the new M-1 Challenge bantamweight champion after he defeated defending champion Pavel Vitruk in the M-1 Challenge 81: Battle i Read Full Story >>>
Conor McGregor and Draymond Green squabbled on Instagram because of a Warriors jersey
By Matt Ellentuck, SB NATION, Sun, 23 Jul 2017
Draymond Green took to Instagram to complain about Conor McGregor wearing a No. 23 Golden State Warriors jersey. That's the number he wears, of course, for the championship-winning team. Green said "We rockin with Floyd bro not you... take that off bruh." But McGregor wasn't wearing a Green jerse Read Full Story >>>
DeSean Jackson Says Mayweather's Strip Club Is World Class
PhilBoxing.com, Sun, 23 Jul 2017
TMZ SPORTS -- Floyd Mayweather ain't just the best in the ring, he's also one of the GREATEST strip club entrepreneurs in America ... so says booty aficionado DeSean Jackson. Now, that DJax is playing for the Bucs, we asked if the rumors are true -- that Tampa Bay really is the #1 city for strip Read Full Story >>>
"KUMBINASYON"


Filipino boxing legend Manny Pacquiao resumes his regular column at PhilBoxing.com and now Bandera to express his own thoughts and to be able to communicate to his fans worldwide.


Latest posts from the Forum...
Philippine time (GMT +8)

New members, please read the FORUM RULES before you post.
Not yet a member? Click HERE to register.


Indomitable_Soldier: Arum is thinking of Horn as the embezzles hope, 10:03 am, 07-26-17



JCOOL2329: Arum is thinking of Horn as the embezzles hope, 9:38 am, 07-26-17



Keep Punching: A dumb may get wiser with age, but how can you trust a liar?, 9:17 am, 07-26-17



Keep Punching: Say Horn KO Pak for good in the REMATCH. Will it affect Pak', 8:42 am, 07-26-17



Keep Punching: :::::CLEVELAND CAVALIERS:::::, 8:38 am, 07-26-17



JABEZJ: Arum is thinking of Horn as the embezzles hope, 8:15 am, 07-26-17



phillyboxing: Four-Division World Champion Nonito Donaire Joins Ringstar S, 5:27 am, 07-26-17



phillyboxing: Video: UFC 214 Embedded: Vlog Series – Episode 1, 5:25 am, 07-26-17



phillyboxing: Video: Approaching the Fight: Adrien Broner | July 29 on SHO, 5:23 am, 07-26-17



boxing_the_no1_sport: SPORTS FACTS AND STATS, 5:23 am, 07-26-17



boxing_the_no1_sport: SPORTS FACTS AND STATS, 5:22 am, 07-26-17



phillyboxing: RingTV.com, powered by Flipps Media, to stream superfight be, 5:20 am, 07-26-17



Rizi_man: Just another new milking cow with big "HORN" on it, 3:51 am, 07-26-17



phillyboxing: Super Welterweight Contender Justin DeLoach Set to Face Once, 3:21 am, 07-26-17



phillyboxing: SUMMER SIZZLES WHEN WORLD CHAMPIONSHIP BOXING®: MIGUEL COTTO, 3:17 am, 07-26-17



mmalover: Cormier vs Jones 2 Live UFC 214 at 29 July in California., 2:06 am, 07-26-17



phillyboxing: SHOWTIME SPORTS® TO DELIVER THREE SEPARATE LIVE BOXING PRESE, 1:29 am, 07-26-17



phillyboxing: SPARROW vs. LAVIOLETTE TOPS SEPT. 8 AT 2300 ARENA IN PHILLY;, 1:26 am, 07-26-17



phillyboxing: Mayweather vs. McGregor to be Presented Live in U.S. Cinemas, 12:26 am, 07-26-17



Rodrigo Roxas III: Arum is thinking of Horn as the embezzles hope, 11:32 pm, 07-25-17



Indomitable_Soldier: Arum is thinking of Horn as the embezzles hope, 11:22 pm, 07-25-17



boxing_the_no1_sport: SPORTS FACTS AND STATS, 11:22 pm, 07-25-17



Indomitable_Soldier: Arum is thinking of Horn as the embezzles hope, 11:18 pm, 07-25-17



Indomitable_Soldier: Arum is thinking of Horn as the embezzles hope, 11:10 pm, 07-25-17



boxing_the_no1_sport: SPORTS FACTS AND STATS, 11:01 pm, 07-25-17



boxing_the_no1_sport: SPORTS FACTS AND STATS, 10:55 pm, 07-25-17



phillyboxing: Team Sauerland sign British cruiserweight prospect Mikael La, 10:53 pm, 07-25-17



phillyboxing: Groves – Cox WBSS fight to take place October 14 in London, 10:50 pm, 07-25-17



boxing_the_no1_sport: SPORTS FACTS AND STATS, 10:10 pm, 07-25-17



FunkyDog: In what level can we scale the quality of boxers nowadays?, 10:05 pm, 07-25-17



boxing_the_no1_sport: SPORTS FACTS AND STATS, 10:04 pm, 07-25-17



FunkyDog: In what level can we scale the quality of boxers nowadays?, 10:04 pm, 07-25-17



boxing_the_no1_sport: SPORTS FACTS AND STATS, 10:04 pm, 07-25-17



boxing_the_no1_sport: SPORTS FACTS AND STATS, 10:00 pm, 07-25-17



Rodrigo Roxas III: In what level can we scale the quality of boxers nowadays?, 9:55 pm, 07-25-17



boxing_the_no1_sport: SPORTS FACTS AND STATS, 9:54 pm, 07-25-17



boxing_the_no1_sport: SPORTS FACTS AND STATS, 9:46 pm, 07-25-17



boxing_the_no1_sport: SPORTS FACTS AND STATS, 9:43 pm, 07-25-17



boxing_the_no1_sport: SPORTS FACTS AND STATS, 9:40 pm, 07-25-17



boxing_the_no1_sport: SPORTS FACTS AND STATS, 9:35 pm, 07-25-17



boxing_the_no1_sport: SPORTS FACTS AND STATS, 9:28 pm, 07-25-17



boxing_the_no1_sport: SPORTS FACTS AND STATS, 9:25 pm, 07-25-17



JABEZJ: :::::CLEVELAND CAVALIERS:::::, 8:28 pm, 07-25-17



batang kamuning: :::::CLEVELAND CAVALIERS:::::, 8:07 pm, 07-25-17



wooks425: Arum is thinking of Horn as the embezzles hope, 5:09 pm, 07-25-17



Palamu_Ninja: Future Gilas Prospects under 20, 3:46 pm, 07-25-17



the boss: Arum is thinking of Horn as the embezzles hope, 2:23 pm, 07-25-17



the boss: Arum is thinking of Horn as the embezzles hope, 2:22 pm, 07-25-17



JABEZJ: Arum is thinking of Horn as the embezzles hope, 2:16 pm, 07-25-17



JABEZJ: :::::CLEVELAND CAVALIERS:::::, 2:12 pm, 07-25-17



JCOOL2329: :::::CLEVELAND CAVALIERS:::::, 2:05 pm, 07-25-17



mhaylove: :::::CLEVELAND CAVALIERS:::::, 1:58 pm, 07-25-17



whinz: :::::CLEVELAND CAVALIERS:::::, 1:29 pm, 07-25-17



mhaylove: BASKETBALL NEWS AND VIEWS, 1:04 pm, 07-25-17



bugoyparin: :::::CLEVELAND CAVALIERS:::::, 1:01 pm, 07-25-17



mhaylove: :::::CLEVELAND CAVALIERS:::::, 12:59 pm, 07-25-17



pubringjuandelacruz: BASKETBALL NEWS AND VIEWS, 12:16 pm, 07-25-17



JABEZJ: :::::CLEVELAND CAVALIERS:::::, 11:59 am, 07-25-17



whinz: ***OFFICIAL LOS ANGELES LAKERS THREAD****, 10:25 am, 07-25-17



whinz: ***OFFICIAL LOS ANGELES LAKERS THREAD****, 10:24 am, 07-25-17



JCOOL2329: Does Conor even know how to box?, 10:19 am, 07-25-17



sidewinder: :::::CLEVELAND CAVALIERS:::::, 10:17 am, 07-25-17



boxing_the_no1_sport: BOXING THE NO. 1 SPORT, 9:14 am, 07-25-17



Indomitable_Soldier: Arum is thinking of Horn as the embezzles hope, 9:12 am, 07-25-17



zorro05: BASKETBALL NEWS AND VIEWS, 9:10 am, 07-25-17



Indomitable_Soldier: Arum is thinking of Horn as the embezzles hope, 9:07 am, 07-25-17



Retz: Audio: UFC 214: Cormier vs Jones 2 – Media Conference Call, 9:05 am, 07-25-17



Retz: ONE CHAMPIONSHIP ANNOUNCES ADDITIONAL BOUTS FOR ONE: KINGS &, 9:04 am, 07-25-17



Retz: HBO SPORTS' 24/7 CANELO/GOLOVKIN, A BEHIND-THE-SCENES SERIES, 9:03 am, 07-25-17



journeyman7: Arum is thinking of Horn as the embezzles hope, 8:34 am, 07-25-17



riarence: Does Conor even know how to box?, 8:26 am, 07-25-17



boxing_the_no1_sport: BOXING THE NO. 1 SPORT, 6:48 am, 07-25-17



phillyboxing: HBO SPORTS' 24/7 CANELO/GOLOVKIN, A BEHIND-THE-SCENES SERIES, 6:14 am, 07-25-17



phillyboxing: Audio: UFC 214: Cormier vs Jones 2 – Media Conference Call, 6:10 am, 07-25-17



phillyboxing: Video: I Am Boxing (full movie), 6:07 am, 07-25-17



phillyboxing: Video: De Campeón a Campeón: Mikey Garcia Habla Con Israel V, 6:05 am, 07-25-17



phillyboxing: Alexander Volkov: "Mikhail Zayats is now hungry for battles,, 2:28 am, 07-25-17



phillyboxing: RAGING BABE BRUNCH RETURNS SEPTEMBER, 16TH, 2:17 am, 07-25-17



phillyboxing: UNDERCARD ANNOUNCED FOR 'ROCKIN' FIGHTS 27?, 2:14 am, 07-25-17



phillyboxing: Undefeated Brooklyn light heavyweight prospect Junior "The Y, 2:11 am, 07-25-17



phillyboxing: QUOTES FROM TODAY'S PRESS CONFERENCE IN LIVERPOOL, 2:07 am, 07-25-17



veilside23: Future Gilas Prospects under 20, 12:28 am, 07-25-17



phillyboxing: BUTLER JOINS MATCHROOM AND REMATCHES HALL, 12:09 am, 07-25-17



phillyboxing: ONE CHAMPIONSHIP ANNOUNCES ADDITIONAL BOUTS FOR ONE: KINGS &, 12:03 am, 07-25-17



Indomitable_Soldier: In what level can we scale the quality of boxers nowadays?, 10:40 pm, 07-24-17



boxing_the_no1_sport: SPORTS FACTS AND STATS, 10:38 pm, 07-24-17



Indomitable_Soldier: In what level can we scale the quality of boxers nowadays?, 10:21 pm, 07-24-17



boxing_the_no1_sport: SPORTS FACTS AND STATS, 10:20 pm, 07-24-17



boxing_the_no1_sport: SPORTS FACTS AND STATS, 10:16 pm, 07-24-17



hayden_agenda: :::::CLEVELAND CAVALIERS:::::, 10:08 pm, 07-24-17



boxing_the_no1_sport: SPORTS FACTS AND STATS, 9:09 pm, 07-24-17



boxing_the_no1_sport: SPORTS FACTS AND STATS, 9:03 pm, 07-24-17



boxing_the_no1_sport: SPORTS FACTS AND STATS, 8:55 pm, 07-24-17



boxing_the_no1_sport: SPORTS FACTS AND STATS, 8:49 pm, 07-24-17



boxing_the_no1_sport: SPORTS FACTS AND STATS, 8:42 pm, 07-24-17



boxing_the_no1_sport: SPORTS FACTS AND STATS, 8:35 pm, 07-24-17



Hubag: :::::CLEVELAND CAVALIERS:::::, 6:16 pm, 07-24-17



JoeyInCali: In what level can we scale the quality of boxers nowadays?, 5:44 pm, 07-24-17



sopna00: McGregor vs. Mayweather Live Stream, 5:09 pm, 07-24-17



whinz: ****OFFICIAL SMART GILAS NT THREAD****, 2:59 pm, 07-24-17



whinz: Marc Caguioa. can he reach 10K pts?, 2:46 pm, 07-24-17



boxing_the_no1_sport: SPORTS FACTS AND STATS, 2:05 pm, 07-24-17



Rodrigo Roxas III: Cummins takes split decision over Villante, 1:58 pm, 07-24-17



Rodrigo Roxas III: Rivera decisions Almeida, 1:57 pm, 07-24-17



Retz: Rivera decisions Almeida, 1:54 pm, 07-24-17



Retz: Cummins takes split decision over Villante, 1:51 pm, 07-24-17



boxing_the_no1_sport: SPORTS FACTS AND STATS, 1:39 pm, 07-24-17



Retz: Linares – Campbell in talks, 1:31 pm, 07-24-17



Retz: Briedis – Perezto meet in World Boxing Super Series on Septe, 1:31 pm, 07-24-17



JCOOL2329: Another interview with the boxing writer by the boxing write, 1:16 pm, 07-24-17



phillyboxing: Another interview with the boxing writer by the boxing write, 12:45 pm, 07-24-17



phillyboxing: Briedis – Perezto meet in World Boxing Super Series on Septe, 12:40 pm, 07-24-17



phillyboxing: Linares – Campbell in talks, 12:35 pm, 07-24-17



Indomitable_Soldier: So sad in the sport of boxing being too ineiquitable.., 12:11 pm, 07-24-17



Indomitable_Soldier: Arum is thinking of Horn as the embezzles hope, 12:04 pm, 07-24-17



Romy Nabas: ****OFFICIAL SMART GILAS NT THREAD****, 11:54 am, 07-24-17



Romy Nabas: :::::CLEVELAND CAVALIERS:::::, 11:49 am, 07-24-17



noypinga: :::::CLEVELAND CAVALIERS:::::, 11:45 am, 07-24-17



mitzi_boy: Broner vs Garcia - Your Pick and Prediction !, 11:33 am, 07-24-17



batang kamuning: :::::CLEVELAND CAVALIERS:::::, 11:21 am, 07-24-17



Romy Nabas: :::::CLEVELAND CAVALIERS:::::, 10:39 am, 07-24-17



Humble: Arum is thinking of Horn as the embezzles hope, 10:32 am, 07-24-17



zorro05: BASKETBALL NEWS AND VIEWS, 10:31 am, 07-24-17