LATEST NEWS.


Be serious, trainer tells Casimero
By Nick Giongco, Tempo, Fri, 26 Aug 2016
It is going to be foolish to take British challenger Charlie Edwards for granted, the head trainer of Filipino champion Johnreil Casimero said a little over two weeks before the Sept. 10 clash at the O2 Arena in London. "You can't afford to take him lightly because if you do, you'll be in deep tr Read Full Story >>>

Canelo, Conor McGregor Trade Words Over 'Cherry Picking' Claim
By Edward Chaykovsky, BoxingScene.com, Fri, 26 Aug 2016
UFC featherweight world champion Conor McGregor recently took at aim at former two division world champion Saul 'Canelo' Alvarez - by claiming the Mexican superstar is a cherry picker, which means the boxer prefers to take easy fights. Canelo has taken a lot of heat in 2016. He took a lot of crit Read Full Story >>>

Butler, Inoue among candidates for first Tapales title defense
By Ryan Songalia, RingTV.com, Fri, 26 Aug 2016
MANILA, Philippines – There is no shortage of suitors eager to get first crack at new WBO bantamweight titleholder Marlon Tapales. Promoter Rex "Wakee" Salud tells RingTV that he is considering four offers for the 24-year-old Filipino boxer, who got off the canvas twice to knock out Pungluang Sor Si Read Full Story >>>

TABANAO IN CRUCIAL BATTLE VS. DOGBOE
By Rene Bonsubre, Jr., PhilBoxing.com, Fri, 26 Aug 2016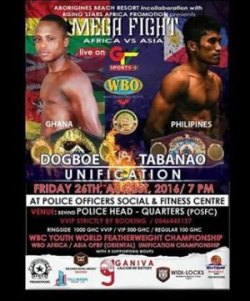 WBO Oriental featherweight titlist Neil John Tabanao (13W-1L,9KO's) of the Philippines is set for the most important fight of his four year professional career this August 26 against WBO Africa featherweight title-holder Read Full Story >>>
Arizona Boxing News & Notes with Don Smith: Jose Benavidez Jr. Shot twice in Phoenix
By Don Smith, PhilBoxing.com, Fri, 26 Aug 2016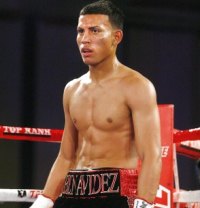 Jose Benavidez. Special Report: Top Rank Boxing protégé Jose Benavidez Jr. (25-0) was shot twice on Sunday August 21 in Phoenix, Arizona while taking his dog for an evening (6 PM Arizona Time) walk. The 24 year old Read Full Story >>>
Full card set for LGM Promotions back with "Night of the Rising Stars" THIS Saturday, August 27 at the BCB Pavilion in Bayonne, New Jersey
PhilBoxing.com, Fri, 26 Aug 2016
Alex Perez takes on Juan Rodriguez for the IBU World Welterweight title Plus undefeated Tyrell Wright, Darren Goodall, Magdiel Cotto, Caleb Hernandez, Leon Johnson, John Bauza and Luis Perozo to see action on the undercard Bayonne, New Jersey (August 25, 2016)-A full nine-bout card is set f Read Full Story >>>
Perrella-Ugas set for September 27
PhilBoxing.com, Fri, 26 Aug 2016
Fort Myers, FL (August 25, 2016) - Hard-hitting welterweight standout Bryant "Goodfella" Perrella will challenge Cuban contender Yordenis Ugas over ten rounds Tuesday, September 27. The bout will air on Fox Sports 1 as part of Premier Boxing Champions' "Toe-to-Toe Tuesday" series. Perrella and Read Full Story >>>
Connecticut Boxing Hall of Fame Class of 2016 Announced
PhilBoxing.com, Fri, 26 Aug 2016
Orlando Montalvo, Bob Yalen, Sean Malone, Jr., Ray Oliveira, John Lawson & Kenny Reels UNCASVILLE, Conn. (August 25, 2016) - The Connecticut Boxing Hall of Fame (CBHOF) has announced its six-member Class of 2016 to be inducted during the 12TH annual CBHOF Gala Induction Dinner on Friday night, No Read Full Story >>>
A move long overdue
By Ed C. Tolentino, The Manila Times, Fri, 26 Aug 2016
Doing the math, Donnie "Ahas" Nietes has been a world champion since 2007, when he won the World Boxing Organization (WBO) minimumweight (105 lbs.) championship. He sat at the minimumweight throne for about four years before collaring a second world title, the WBO light flyweight (108 lbs.) crown, i Read Full Story >>>
Exclusive: Golovkin now at 164, Brook 'weight by design' - Sanchez
By Phil D. Jay, World Boxing News, Fri, 26 Aug 2016
Abel Sanchez believes Kell Brook's team specifically planned to have the welterweight at a massive weight for the 30-day World Boxing Council check scaling. The WBC ruling allows the organisation to safely keep tabs on how a fighter loses weight and announced the figures for Gennady Golovkin vers Read Full Story >>>
Ticket sales going strong for Alvarez-Smith fight at AT&T Stadium
By David Humphrey, Star Telegram, Fri, 26 Aug 2016
The Canelo Alvarez vs. Liam Smith WBO Junior Middleweight Championship fight is big. AT&T Stadium in Arlington, home of the Dallas Cowboys, is big. And, according to promoter Oscar De La Hoya, attendance for the Sept. 17 fight is on the way to being very big. "We're excited to announce tha Read Full Story >>>
MARK MAGSAYO TO BATTLE RUBEN GARCIA ON NIETES-SOSA CARD
By Ronnie Nathanielsz, PhilBoxing.com, Thu, 25 Aug 2016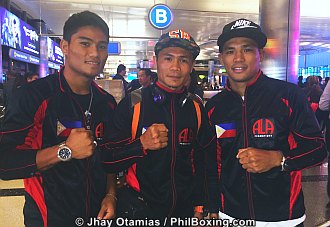 Mark 'Magnifico' Magsayo will battle Mexico's Ruben Garcia on the Donnie Nietes-Edgar Sosa undercard at the StubHub Center in Carson City, California on September 24. ALA Promotions president Michael Aldegu Read Full Story >>>
Vargas is Open To Facing Crawford After Stunning Pacquiao
By Ryan Burton, BoxingScene.com, Thu, 25 Aug 2016
When former 8-division champion Manny Pacquiao make it known that his retirement would be brief and that he would be returning to the ring, former 4-division champion Adrien Broner was the frontrunner to land the fight with WBC/WBO super lightweight champion Terence Crawford and WBO welterweight cha Read Full Story >>>
Jerwin Ancajas vs McJoe Arroyo title fight to be free admission
By Ryan Songalia, Rappler, Thu, 25 Aug 2016
MANILA, Philippines - The IBF junior bantamweight title fight between Puerto Rico's McJoe Arroyo and Filipino Jerwin Ancajas on September 3 has been moved from Bacoor, Cavite to Taguig City. Ancajas' trainer Joven Jimenez, who is tasked by Manny Pacquiao's MP Promotions to secure the fight venue, Read Full Story >>>
Exclusive: Canelo 'would love to fight Pacquiao' - predicts Mayweather return
By Phil D. Jay, World Boxing News, Thu, 25 Aug 2016
Mexican superstar Canelo Alvarez spoke to WBN during media duties this week to confirm a future fight with Manny Pacquiao is high on his list of potential match-ups. The former two-weight world champion also stated that he expects Floyd Mayweather to fight for the 50th time as a professional in t Read Full Story >>>
Too True: Errol Spence
By Adam Berlin, Boxing.com, Thu, 25 Aug 2016
Errol Spence is one of those rare, blessed few whose art possesses that indefinable but substantive weight. The Truth's art is boxing… Errol Spence Jr. isn't identified by his ring name, not yet. It's The Truth, in case you don't know, and the truth is, to borrow another warrior's moniker, th Read Full Story >>>
PHOTOS: PACQUIAO WORKOUT AUG 24
PhilBoxing.com, Thu, 25 Aug 2016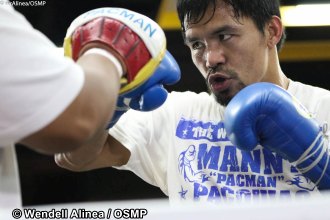 Eight division world champion and Philippine senator Manny Pacquiao trains Aug 24 at the Elorde Gym in Pasay City in preparation for his upcoming fight against WBO welterweight champion Jessie Vargas scheduled on Nov 5 at Read Full Story >>>
Maurice Hooker: "I knew Manny Pacquiao wasn't going to fight Crawford, Terence Crawford is younger and he's got more skills"
By Robert Brown, OTR Boxing Radio, Thu, 25 Aug 2016
Rising light welterweight prospect, Maurice Hooker, has a record of 21-0-2 with 16 KOs and is looking towards getting a title shot in the near future. Hooker is currently rated #9 by the WBO and #12 IBF, and is coming off a defense of his WBO/NABO light welterweight title against Ty Barnett in which Read Full Story >>>
Vargas vows to 'shut critics up' in fight vs Pacquiao
By Dino Maragay, The Philippine Star, Thu, 25 Aug 2016
MANILA, Philippines – WBO welterweight champion Jessie Vargas has promised to silence critics who believe he doesn't deserve a shot at Manny Pacquiao. Speaking recently to boxingscene.com, the 27-year-old Vargas said he is elated for getting the chance to show his caliber against Pacquiao when th Read Full Story >>>
Ghana, finally
By Edri Aznar, Sun.Star Cebu, Thu, 25 Aug 2016
AFTER a couple of hitches, World Boxing Organization (WBO) Oriental featherweight champion Neil John Tabanao is good to go for his fight in Ghana this weekend. A few days back, Tabanao's fight was sketchy after they had a hard time looking for yellow fever vaccine, which was required for travel t Read Full Story >>>
WHO CARES ABOUT PACQUIAO-VARGAS?
By Recah Trinidad, PhilBoxing.com, Thu, 25 Aug 2016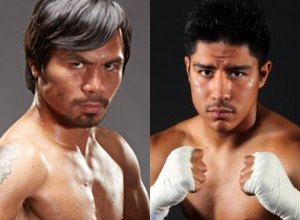 WHO the hell is Jessie Vargas? The sidestreet Pinoy boxing fanatic wants to know the caliber of this fighter whom Manny Pacquiao will meet in a championship duel in Las Vegas on Nov. 5. "Sino ba si Vargas, tindero o sap Read Full Story >>>
"CHOCOLATITO" GONZALEZ HARD AT WORK FOR WBC SUPER FLYWEIGHT TITLE FIGHT VS CARLOS CUADRAS
By Ronnie Nathanielsz, PhilBoxing.com, Thu, 25 Aug 2016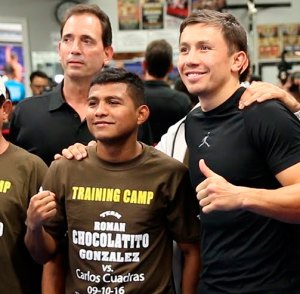 Unbeaten pound for pound No. 1 Roman "Chocolatito" Gonzalez of Nicaragua who challenges super flyweight champion Carlos Cuadras of Mexico at the Ingledwood Forum in California on September 10 is hard at work in prepara Read Full Story >>>
CANELO ALVAREZ CONFERENCE CALL TRANSCRIPT
PhilBoxing.com, Thu, 25 Aug 2016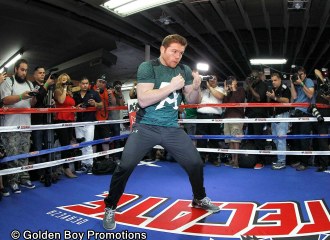 OSCAR DE LA HOYA, Chairman and CEO of Golden Boy Promotions: Thank you very much. Thank you to all the media. [SPEAKING IN SPANISH]. We are here for the Canelo Alvarez-Liam Smith conference call. First of all, we w Read Full Story >>>
DIBELLA ENTERTAINMENT NEWLY SIGNED PROSPECTS JON FERNANDEZ AND JOSE ROMAN SET TO MAKE DEBUTS ON UPCOMING BROADWAY BOXING CARD
PhilBoxing.com, Thu, 25 Aug 2016
THURSDAY, SEPTEMBER 1 FOXWOODS RESORT CASINO Mashantucket, CT (8/24/16) - Looking to add to its ever growing stable of young, up-and-coming talent, DiBella Entertainment (DBE) has announced the signing of undefeated Spanish prospect Jon Fernandez (L in photo) and Puerto Rican amateur standout Jos Read Full Story >>>
GGG, Gonzalez engage in 'H.A.W' before Big & Little Drama Shows
By Michael Baca II, RingTV.com, Thu, 25 Aug 2016
BIG BEAR LAKE, California – Two of the top three fighters in THE RING magazine pound-for-pound rankings, Gennady Golovkin and Roman Gonzalez, held a media workout on Tuesday at The Summit gym, just weeks away from their next fight on Sept. 10. Golovkin (35-0, 32 knockouts) will look to defend hi Read Full Story >>>
Promoter: Canelo Alvarez has right to weigh financial legacy as Golovkin awaits
By Lance Pugmire, Los Angeles Times, Thu, 25 Aug 2016
Canelo Alvarez is pleading a case that many aren't buying, but if the experience of a veteran fight man counts, perhaps there should be a different way to look at Alvarez's balk before fighting Gennady Golovkin. "They always talk about Mexico's boxing idols not ending up with money. I really thin Read Full Story >>>
Pacquiao sparmate Jorge Linares wants to unify lightweight belt
By Leo Reyes, Digital Journal, Thu, 25 Aug 2016
WBC lightweight champion and former Manny Pacquiao sparring partner Jorge Linares of Venezuela aims to unify the lightweight belt when he collides with Anthony Crolla of England on Sept. 24 at the Manchester Arena, Manchester, United Kingdom. Linares (40,3-0, 27 KOs), who accompanied trainer Fred Read Full Story >>>
Arizona Boxing News & Notes With Don Smith: Legends Show Set, Iron Boy 35 & Much More
By Don Smith, PhilBoxing.com, Thu, 25 Aug 2016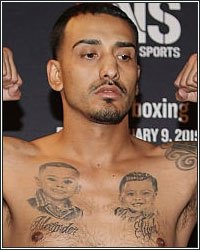 Andrew Hernandez. Boxing Fans, Two title bouts headline the Friday, August 26 boxing show at the Legends Event Center in Phoenix. In the Main Event, WBC USNBC Middleweight Champion Andrew "Hurricane" Hernande Read Full Story >>>
Anthony Crolla, Jorge Linares press conference Quotes
PhilBoxing.com, Thu, 25 Aug 2016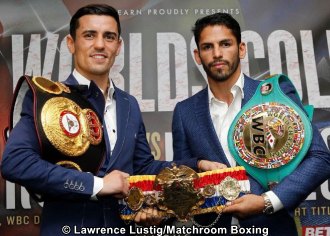 Crolla vs. Linares to battle in a WBA, WBC Diamond AND RING MAGAZINE Lightweight WORLD CHAMPIONSHIP Unification LIVE ON SKY SPORTS MANCHESTER (August 24, 2016) - WBA Lightweight World Champion Anthony "Million D Read Full Story >>>
Windy City Fight Nights Return to Chicago on Saturday, October 1
PhilBoxing.com, Thu, 25 Aug 2016



On Saturday, October 1, 2016, at the UIC Pavilion in Chicago, Warriors Boxing Promotions will resurrect the legendary "Windy City Fight Nights" series of boxing shows with an event featuring a pair of unbeaten locals in se Read Full Story >>>
Nick Diaz -- Jumped in Las Vegas ... Huge Brawl Breaks Out
PhilBoxing.com, Thu, 25 Aug 2016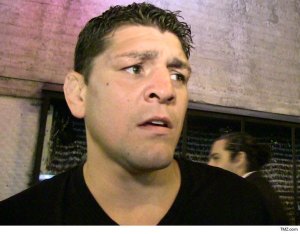 TMZ SPORTS -- Nick Diaz ended up in the middle of a huge brawl while partying at Hyde nightclub in Vegas early Wednesday morning ... TMZ Sports has learned. A rep for the club tells us the UFC fighter went to a bathro Read Full Story >>>
Red-Hot Lightweight Contender Mason Menard Calling out WBO Champ Terry Flanagan
PhilBoxing.com, Thu, 25 Aug 2016
Coming off another impressive SHOWTIME-televised knockout last Friday, Louisiana-based lightweight contender "Rock Hard Mighty" Mason Menard is setting his sights on WBO Lightweight Champion Terry Flanagan. "I would be more than happy to fight Terry Flanagan," said Menard. "It would be a great f Read Full Story >>>
SALITA CONGRATULATES MILLER AND EYUBOV FOR SHOWTIME VICTORIES
PhilBoxing.com, Thu, 25 Aug 2016
'BOTH MEN PASSED THEIR TESTS.' Now that the dust has settled, promoter Dmitriy Salita wishes to thank everyone involved in the outstanding ShoBox: The New Generation quadrupleheader he and Greg Cohen Promotions put on last Friday at Rhinos Stadium in Rochester, New York. Two of Salita's top f Read Full Story >>>
Manny Pacquiao's Biggest Comeback Opponent is Relevance
By Tony Deebs, The Boxing Tribune, Thu, 25 Aug 2016
Filipino icon Manny Pacquiao may be coming back November 5 to take on WBO welterweight paper champ, Jessie Vargas, but his greatest opponent in this final leg of his career is not Vargas or anyone else he's likely to meet in the ring. Pacquiao's biggest battle will be with relevance. More precisely, Read Full Story >>>
Vargas: I will surprise Pacquiao
Fox Sports, Thu, 25 Aug 2016
WBO welterweight champion Jessie Vargas feels that he is the best boxer in his division and plans on proving that against former eight-division champion Manny Pacquiao in their bout on November 5 at the Thomas and Mack Center in Las Vegas, Nevada. Initially, when the match-up was announced earli Read Full Story >>>
The Mayweather Effect – and It's Costing You
By Frank Lotierzo, The Sweet Science, Thu, 25 Aug 2016
The Mayweather Effect – The Mayweather influence is impossible to miss. If you're an astute follower of professional boxing you'd have to be blind to miss the enormous impact that Floyd Mayweather has had over fighters such as Manny Pacquiao 58-6-2 (38), Miguel Cotto 40-5 (33), Canelo Alvarez 47-1- Read Full Story >>>
World champ Tapales gets fight offers
By Nick Giongco, The Manila Bulletin, Thu, 25 Aug 2016
London is calling for World Boxing Organization (WBO) bantamweight king Marlon Tapales. So are Japan, Thailand, the US and even Vietnam. Wakee Salud, Tapales' chief handler, said yesterday that he has been receiving countless offers from all over, inquiring about their willingness to travel and d Read Full Story >>>
De La Hoya: Canelo a 154-Pounder, Will Fight Golovkin When Ready!
By Keith Idec, BoxingScene.com, Thu, 25 Aug 2016
They changed their minds. Without uttering those exact words, that's essentially how Oscar De La Hoya explained Wednesday the decision for Canelo Alvarez to face Liam Smith in his next fight instead of Gennady Golovkin. In the immediate aftermath of his sensational knockout victory over Amir K Read Full Story >>>
Golovkin vs Brook: Is GGG taking Brook seriously in training?
By Joseph Herron , Fight Saga, Thu, 25 Aug 2016
At the Summit Gym in Big Bear Lake, California, current Middleweight champion Gennady Golovkin and head trainer Abel Sanchez are making their final preparations in camp before they leave for London, England, where GGG will be defending his coveted titles against current IBF Welterweight champ Kell B Read Full Story >>>
Manny Pacquiao Eyeing to Retake the WBO Welterweight Belt from Jessie Vargas in November
By Shiva Mehrani, Master Herald, Wed, 24 Aug 2016
Filipino boxing icon and eight-division world champion Manny Pacquiao will be coming out of his second retirement in November by eyeing to retake the WBO welterweight championship from reigning titlist, American Jessie Vargas. While the boxer from Saranggani is now very busy with his work as Sena Read Full Story >>>
"KUMBINASYON"


Filipino boxing legend Manny Pacquiao resumes his regular column at PhilBoxing.com and now Bandera to express his own thoughts and to be able to communicate to his fans worldwide.


Latest posts from the Forum...
Philippine time (GMT +8)

New members, please read the FORUM RULES before you post.
Not yet a member? Click HERE to register.


Navy Blue: Pacman binuhay na naman ang mga crabs etc., 12:50 pm, 08-26-16



BMWi8: NO BOUBT MARCOS IS A SUPER HERO: PROOF, 12:01 pm, 08-26-16



pugakss: NO BOUBT MARCOS IS A SUPER HERO: PROOF, 11:52 am, 08-26-16



BMWi8: Canelo Wants to Fight Pacquiao?!, 11:43 am, 08-26-16



BMWi8: Marcos, Nakulong Din Dahil Sa Anomalya Sa Pera !, 11:32 am, 08-26-16



BMWi8: Marcos, Nakulong Din Dahil Sa Anomalya Sa Pera !, 11:30 am, 08-26-16



BMWi8: Marcos, Nakulong Din Dahil Sa Anomalya Sa Pera !, 11:29 am, 08-26-16



BMWi8: Marcos, Nakulong Din Dahil Sa Anomalya Sa Pera !, 11:25 am, 08-26-16



Indomitable_Soldier: Canelo Wants to Fight Pacquiao?!, 11:23 am, 08-26-16



bugoyparin: Marcos, Nakulong Din Dahil Sa Anomalya Sa Pera !, 11:22 am, 08-26-16



BMWi8: Marcos, Nakulong Din Dahil Sa Anomalya Sa Pera !, 11:21 am, 08-26-16



PacDaddy1: Maurice Hooker: 'Crawford has more skills than Pacquiao'!, 10:54 am, 08-26-16



batang kamuning: Marcos, Nakulong Din Dahil Sa Anomalya Sa Pera !, 10:53 am, 08-26-16



batang kamuning: WAS SHOULDER INJURY REALLY HAPPENED? PACMAN=LOCHTE=LIARS, 10:51 am, 08-26-16



phillyboxing: Jose Benavidez Jr. injured in Phoenix shooting, 8:55 am, 08-26-16



phillyboxing: Split-T Management signs amateur standout Mark Dawson to a m, 6:46 am, 08-26-16



phillyboxing: Connecticut Boxing Hall of Fame Class of 2016 Announced, 6:44 am, 08-26-16



phillyboxing: Full card set for LGM Promotions back with "Night of the Ris, 5:59 am, 08-26-16



phillyboxing: Undefeated Super Lightweight, Milton Santiago Jr. takes on K, 5:48 am, 08-26-16



phillyboxing: FRANK WARREN ANNOUNCES HUGE EUBANK JR V LANGFORD AND WILLIAM, 5:44 am, 08-26-16



tiyanak2: NO BOUBT MARCOS IS A SUPER HERO: PROOF, 2:47 am, 08-26-16



Juan Diaz: NO BOUBT MARCOS IS A SUPER HERO: PROOF, 2:41 am, 08-26-16



Juan Diaz: NO BOUBT MARCOS IS A SUPER HERO: PROOF, 2:36 am, 08-26-16



gambol: •••ALASKA ACES "Gatas Republik" THREAD•••, 12:53 am, 08-26-16



Master Bates: •••ALASKA ACES "Gatas Republik" THREAD•••, 12:49 am, 08-26-16



klintshin: Nate Diaz vs Conor McGregor 2 Full Fight Replay, 11:58 pm, 08-25-16



The_Awaken: NO BOUBT MARCOS IS A SUPER HERO: PROOF, 9:14 pm, 08-25-16



thedarkdragon11: NO BOUBT MARCOS IS A SUPER HERO: PROOF, 8:23 pm, 08-25-16



FearNoEvil: NO BOUBT MARCOS IS A SUPER HERO: PROOF, 8:01 pm, 08-25-16



Gamby Sucaldito: NO BOUBT MARCOS IS A SUPER HERO: PROOF, 7:29 pm, 08-25-16



ofwhaven: Video: Manny Pacquiao vs. Timothy Bradley 3 – Full Fight, 6:27 pm, 08-25-16



ofwhaven: Video: Floyd Mayweather Vs Manny Pacquiao Full Fight Replay, 6:24 pm, 08-25-16



zorro05: NO BOUBT MARCOS IS A SUPER HERO: PROOF, 4:50 pm, 08-25-16



Junorz: NO BOUBT MARCOS IS A SUPER HERO: PROOF, 4:45 pm, 08-25-16



The_Awaken: NO BOUBT MARCOS IS A SUPER HERO: PROOF, 4:32 pm, 08-25-16



Gamby Sucaldito: Connor McGreggor punches harder than Pacman? Proof?, 3:31 pm, 08-25-16



Gamby Sucaldito: Marcos, Nakulong Din Dahil Sa Anomalya Sa Pera !, 3:17 pm, 08-25-16



gambol: •••ALASKA ACES "Gatas Republik" THREAD•••, 2:03 pm, 08-25-16



kabayong_bundat: Marcos, Nakulong Din Dahil Sa Anomalya Sa Pera !, 12:27 pm, 08-25-16



whinz: PBA's Monster games, 11:59 am, 08-25-16



whinz: PBA's Monster games, 11:58 am, 08-25-16



whinz: PBA's Monster games, 11:58 am, 08-25-16



whinz: PBA's Monster games, 11:57 am, 08-25-16



whinz: Official San Miguel Beermen Thread, 11:28 am, 08-25-16



whinz: Official PUREFOODS Thread!, 11:27 am, 08-25-16



whinz: •••ALASKA ACES "Gatas Republik" THREAD•••, 11:25 am, 08-25-16



whinz: •••ALASKA ACES "Gatas Republik" THREAD•••, 11:23 am, 08-25-16



marinduque: •••ALASKA ACES "Gatas Republik" THREAD•••, 10:55 am, 08-25-16



Retz: QUOTES: "GGG" & "CHOCOLATITO" LOS ANGELES MEDIA WORKOUTS, 9:24 am, 08-25-16



Retz: CANELO ALVAREZ CONFERENCE CALL TRANSCRIPT, 9:24 am, 08-25-16



phillyboxing: CANELO ALVAREZ CONFERENCE CALL TRANSCRIPT, 9:07 am, 08-25-16



phillyboxing: QUOTES: "GGG" & "CHOCOLATITO" LOS ANGELES MEDIA WORKOUTS, 9:04 am, 08-25-16



phillyboxing: DIBELLA ENTERTAINMENT NEWLY SIGNED PROSPECTS JON FERNANDEZ A, 8:55 am, 08-25-16



z1ncadd: Marcos, Nakulong Din Dahil Sa Anomalya Sa Pera !, 8:23 am, 08-25-16



phillyboxing: Video: "I've got visions of stopping Canelo down the stretch, 8:23 am, 08-25-16



z1ncadd: Marcos, Nakulong Din Dahil Sa Anomalya Sa Pera !, 8:18 am, 08-25-16



The Butcher: Pacland Fantasy Football 2016-2017!!!, 7:11 am, 08-25-16



The Butcher: Pacland Fantasy Football 2016-2017!!!, 7:06 am, 08-25-16



The Butcher: Pacland Fantasy Football 2016-2017!!!, 7:02 am, 08-25-16



JCOOL2329: Pacquiao vs Vargas Live Stream Info., 5:14 am, 08-25-16



pacquiofan: Pacquiao vs Vargas Live Stream Info., 4:49 am, 08-25-16



platinum: Marcos, Nakulong Din Dahil Sa Anomalya Sa Pera !, 3:37 am, 08-25-16



platinum: Marcos, Nakulong Din Dahil Sa Anomalya Sa Pera !, 3:31 am, 08-25-16



phillyboxing: Windy City Fight Nights Return to Chicago on Saturday, Octob, 3:08 am, 08-25-16



phillyboxing: WORLD SERIES OF FIGHTING SIGNS HEAVYWEIGHT SENSATION JARED R, 3:01 am, 08-25-16



phillyboxing: Video: Williams v Patterson, Eubank v Langford: 22nd Oct '16, 2:48 am, 08-25-16



phillyboxing: Red-Hot Lightweight Contender Mason Menard Calling out WBO C, 2:42 am, 08-25-16



phillyboxing: Unbeaten Prospects Eddie Ramirez & Kevin Watts Battle in, 2:40 am, 08-25-16



platinum: Marcos, Nakulong Din Dahil Sa Anomalya Sa Pera !, 1:56 am, 08-25-16



phillyboxing: CROLLA: LINARES FIGHT STARTS MY LEGACY, 1:27 am, 08-25-16



phillyboxing: BETFRED BACK CROLLA-LINARES WORLD TITLE BLOCKBUSTER, 1:19 am, 08-25-16



gambol: •••ALASKA ACES "Gatas Republik" THREAD•••, 11:16 pm, 08-24-16



JABEZJ: •••ALASKA ACES "Gatas Republik" THREAD•••, 11:15 pm, 08-24-16



gambol: Official San Miguel Beermen Thread, 11:10 pm, 08-24-16



gambol: •••ALASKA ACES "Gatas Republik" THREAD•••, 11:09 pm, 08-24-16



JABEZJ: Official San Miguel Beermen Thread, 11:07 pm, 08-24-16



JABEZJ: •••ALASKA ACES "Gatas Republik" THREAD•••, 11:07 pm, 08-24-16



gambol: •••ALASKA ACES "Gatas Republik" THREAD•••, 11:05 pm, 08-24-16



JABEZJ: •••ALASKA ACES "Gatas Republik" THREAD•••, 10:56 pm, 08-24-16



JABEZJ: Official San Miguel Beermen Thread, 10:56 pm, 08-24-16



Numero uno: Marcos, Nakulong Din Dahil Sa Anomalya Sa Pera !, 10:38 pm, 08-24-16



Romy Nabas: Marcos, Nakulong Din Dahil Sa Anomalya Sa Pera !, 10:26 pm, 08-24-16



kaintayo_talapulamko: Marcos, Nakulong Din Dahil Sa Anomalya Sa Pera !, 10:16 pm, 08-24-16



Numero uno: Marcos, Nakulong Din Dahil Sa Anomalya Sa Pera !, 10:08 pm, 08-24-16



Numero uno: Marcos, Nakulong Din Dahil Sa Anomalya Sa Pera !, 9:56 pm, 08-24-16



BMWi8: Marcos, Nakulong Din Dahil Sa Anomalya Sa Pera !, 6:19 pm, 08-24-16



Rodrigo Roxas III: Marcos, Nakulong Din Dahil Sa Anomalya Sa Pera !, 6:19 pm, 08-24-16



Numero uno: Marcos, Nakulong Din Dahil Sa Anomalya Sa Pera !, 6:16 pm, 08-24-16



BMWi8: Marcos, Nakulong Din Dahil Sa Anomalya Sa Pera !, 6:14 pm, 08-24-16



Numero uno: Marcos, Nakulong Din Dahil Sa Anomalya Sa Pera !, 6:13 pm, 08-24-16



whinz: Official San Miguel Beermen Thread, 4:25 pm, 08-24-16



JABEZJ: Official PUREFOODS Thread!, 4:25 pm, 08-24-16



whinz: Official PUREFOODS Thread!, 4:22 pm, 08-24-16



JABEZJ: Official San Miguel Beermen Thread, 4:20 pm, 08-24-16



BMWi8: Marcos, Nakulong Din Dahil Sa Anomalya Sa Pera !, 4:08 pm, 08-24-16



gambol: Official San Miguel Beermen Thread, 4:06 pm, 08-24-16



gambol: Official PUREFOODS Thread!, 4:06 pm, 08-24-16



JABEZJ: Official PUREFOODS Thread!, 3:58 pm, 08-24-16



JABEZJ: Official San Miguel Beermen Thread, 3:55 pm, 08-24-16



BMWi8: Marcos, Nakulong Din Dahil Sa Anomalya Sa Pera !, 3:02 pm, 08-24-16



phillyboxing: Unbeaten Caleb Plant Drops & Defeats Colombia's Juan De , 2:57 pm, 08-24-16



phillyboxing: LaRon Mitchell (13-0, 13 KOs) Defends Unbeaten Mark Friday N, 1:37 pm, 08-24-16



phillyboxing: ERROL SPENCE JR. DELIVERS KNOCKOUT PERFORMANCE: +6 MILLION V, 1:35 pm, 08-24-16



phillyboxing: Statement from Golden Boy Promotions on Luis Ortiz, 1:28 pm, 08-24-16