LATEST NEWS.


Congressman Pacquiao: Bigger dreams for our people
PhilBoxing.com, Wed, 07 Oct 2015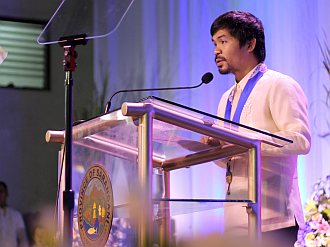 ALABEL, Sarangani (October 7, 2015) - "In the coming days, I will be embracing new levels of responsibility. I will be confronting tougher challenges. Yes, I will be dreaming bigger dreams for our people and for Read Full Story >>>

Darleys Perez to defend WBA Lightweight title against Anthony Crolla in anticipated rematch on November 21, LIVE on AWE
PhilBoxing.com, Wed, 07 Oct 2015
Ordered by the WBA - One of the most anticipated rematches of the Year San Diego, CA - October,6 2015 - On Saturday afternoon, November 21, Darleys Perez will defend the WBA Lightweight title in a rematch against Anthony Crolla in a bout that can be seen live and exclusively in the United States Read Full Story >>>

Degale vs. Bute Nov. 28 in Quebec City on Showtime Championship Boxing
PhilBoxing.com, Wed, 07 Oct 2015


DeGale with trainer McDonnell. QUEBEC CITY, Canada (October 6, 2015) -- Popular local favorite and former world champion Lucian Bute (32-2, 25 KOs), of Montreal, will try to recapture his world title belt against 20 Read Full Story >>>
GEORGE TO SILENCE INDONESIAN CHAMP
PhilBoxing.com, Wed, 07 Oct 2015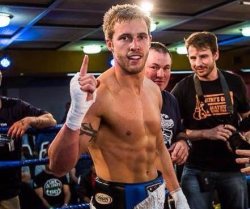 George. Kris George to return to in ring action against Indonesian Champ on Oct 31 Kris George vs Heri Andriyanto signed for TGW & Smithy Bring the Big Fights 11. KRIS THE SILENCER GEORGE HAS A STERN TEST IN FRONT OF Read Full Story >>>
Boston vs. NYC ring rivalry continues Oct. 10 at Lowell with PBC on NBCSN
PhilBoxing.com, Wed, 07 Oct 2015
DANNY O'CONNOR VS. GABRIEL BRACERO II, RYAN KIELCZWESKI VS. RAFAEL VAZQUEZ CONTINUES BOSTON VS. NYC RING RIVALRY PREMIER BOXING CHAMPIONS ON NBCSN SATURDAY, OCTOBER 10 FROM THE LOWELL MEMORIAL AUDITORIUM IN LOWELL, MASSACHUSETTS 8 P.M. ET/5 P.M. PT TICKETS ON SALE NOW! LOWELL, Mass. (Oc Read Full Story >>>
2015 PartyPoker Mosconi Cup: Feijen set for MC Number 11
PhilBoxing.com, Wed, 07 Oct 2015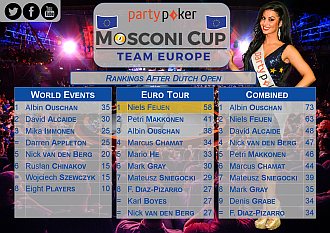 FOLLOWING ON from his last 16 finish at the recent Dutch Open on the Euro Tour, Holland's much decorated Niels Feijen can ready himself for his 11th appearance pulling on the blue European jersey at PartyPoker Mosconi Cup Read Full Story >>>
NBA - Warriors ​tame​ Raptors​, 95-87​ ​​
By Doreen Mendez, PhilBoxing.com, Wed, 07 Oct 2015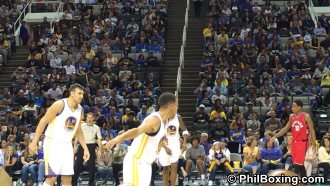 SAN JOSE ​-- T​he Golden State Warriors returned to a place they once called home for a year and put on a show in front of 18,223 fans by beating the Toronto Raptors, 95-87, at the SAP Center in Silicon Vall Read Full Story >>>
Pinoy stars shine as Jordan Clarkson coaches Power 106 All-Star Game (Photos)
By Nicholai R. Roska, PhilBoxing.com, Wed, 07 Oct 2015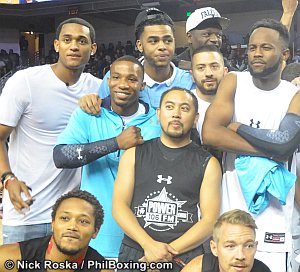 LOS ANGELES -- ​The task was to keep tabs ​on​ Filipino​-​American cager and Los Angeles Lakers guard Jordan Clarkson. But as the chain of events unfolded at the Power 106 FM Celebrity All Star g Read Full Story >>>
Opinion: Pacquiao-Khan and a Possible Lure for Floyd Mayweather Jr.
By Andreas Hale, Sherdog.com, Wed, 07 Oct 2015
A potential 2016 showdown between Manny Pacquiao and Amir Khan is huge for boxing. However, and perhaps more importantly for both fighters, it could be the bait that lures Floyd Mayweather Jr. out of his alleged retirement for a 50th fight and a massive payday for his opponent. Although negotiat Read Full Story >>>
Freddie Roach: 'Miguel Cotto will take Saul Alvarez into deep waters'
By John Dennen, BoxingNews, Wed, 07 Oct 2015
IT won't be bigger than Floyd Mayweather versus Manny Pacquiao but it will be very popular, it will be the second biggest fight of the year, there's no chance it will be bigger – but it will be more exciting. Mayweather just fights that style, he's a very defensive fighter but he still wins. But I t Read Full Story >>>
Manny Pacquiao announces senate run in the Philippines despite poor attendance record
By Philip Sherwell, Telegraph.co.uk, Wed, 07 Oct 2015
Manny Pacquiao, the world boxing champion, has declared his plans to step up a weight as a political pugilist in his homeland of the Philippines. Pacquiao told supporters that he will run for the country's senate in elections next year after completing a second term as a congressman in the count Read Full Story >>>
Manny Pacquiao to run for senator in Philippines, then box again
By Steve Carp, Las Vegas Review Journal, Wed, 07 Oct 2015
Manny Pacquiao is determined to return to the boxing ring in 2016. But he also plans to do battle in the political arena next spring in his native Philippines. The 36-year-old, eight-division champion announced Tuesday he will run for the senate in his country next May. Pacquiao is currently in h Read Full Story >>>
'Wladimir Klitschko will knock out Tyson Fury'
BoxingNews, Wed, 07 Oct 2015
IF Manny Steward left a legacy in boxing it is felt more through the existence of Johnathon Banks than any of the famous fighters he once trained. It may often be reflected that Thomas Hearns was his greatest success, that with Wladimir Klitschko he rescued and rebuilt the career of a fighter con Read Full Story >>>
LADON WINS OPENING BOUT AT WORLD BOXING CHAMPIONSHIPS IN DOHA
By Ronnie Nathanielsz, PhilBoxing.com, Wed, 07 Oct 2015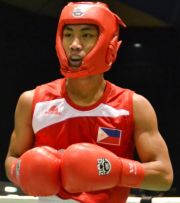 Ladon. Light flyweight Rogen Ladon of the Philippines scored an impressive 3-0 victory over highly rated Leandro Blanc of Argentina in the opening bout of the World Boxing Championships in Doha, Qatar Tuesday evening. Ladon, a s Read Full Story >>>
Thrilla In Manila (Second of a Series): Ali and Frazier in Malacanang
By Eddie Alinea, PhilBoxing.com, Wed, 07 Oct 2015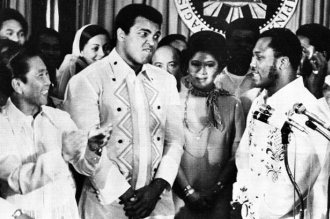 The government left no stone unturned in an effort to make the Thrilla in Manila, the world heavyweight championship confrontation between titlist Muhammad "The Greatest" Ali and countryman challenger "Smokin" Joe Fra Read Full Story >>>
IN GENSAN: Ex-WBC Youth champ Payao fights Umbal in Blow by Blow
By Lito delos Reyes, PhilBoxing.com, Wed, 07 Oct 2015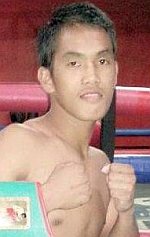 Payao. FORMER World Boxing Council (WBC) World Youth super flyweight champion Jhaleel "The Cebuano Disaster" Payao will face knockout artist Jason Umbal on October 24 at the Lagao Gym in General Santos City. The 8-rounder bout w Read Full Story >>>
Ronda Rousey: Mayweather Can Save His Soul ... Follow Mike Tyson's Lead
PhilBoxing.com, Wed, 07 Oct 2015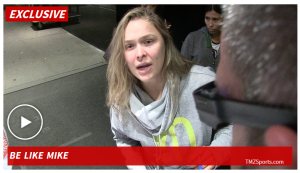 TMZ SPORTS -- Floyd Mayweather needs to be more like Mike Tyson -- at least, if he wants to turn his life around and become a better person ... so says Floyd's archnemesis Ronda Rousey. Rousey was out in NYC Monday night Read Full Story >>>
Pacquiao to give P5M to Olympic gold winner
By Josef T. Ramos, The Manila Times, Wed, 07 Oct 2015
Eighth weight division world champion Manny Pacquiao has promised to give a P5 million cash reward to any Filipino athletes who will win a gold medal in the 2016 Olympics in Rio de Janeiro, Brazil. Pacquiao is also scheduled to fly to Doha, Qatar on Wednesday to support Filipino light flyweight R Read Full Story >>>
Keep in shape, Roach tells Nietes
By Nick Giongco, The Manila Bulletin, Wed, 07 Oct 2015
Hall of Fame trainer Freddie Roach has reminded the camp of long-reigning Filipino world champion Donnie Nietes to whip himself into shape in the coming days. "Freddie told us Brian (Viloria) is looking forward to his sparring with Donnie," Nietes' trainer, two-time world title challenger Edito V Read Full Story >>>
Bernard Hopkins eyeing final fight
By Andreas Hale, Yahoo! Sports, Wed, 07 Oct 2015
Bernard Hopkins may have his eyes set on the finish line after a storied 27-year career that saw him become the oldest boxer to ever win a world championship at the age of 49. View photo . Bernard Hopkins, right, was dominated in his last bout against Sergey Kovalev. (AP) It appears Read Full Story >>>
Rios discusses 'second best opponent' Bradley – says Vargas left it too late
By Phil D. Jay, World Boxing News, Wed, 07 Oct 2015
Ex-lightweight champion of the world, Brandon Rios has another opportunity to reign at boxing's top table when the California-based Texan takes on Timothy Bradley on November 7 in Las Vegas. The 29 year-old has strung together back-to-back victories against Diego Chaves and three-time foe Mike Al Read Full Story >>>
Boxing Is Alive… and Punching!
By Courtney Riley, Boxing Insider, Wed, 07 Oct 2015
According to the opinions of many sports writers and observers… 'Boxing is either dead or dying'. I for one am tired of hearing those morbid old hymnals that are constantly being sung by the would-be pallbearers who are yearning for the death of the sport. Too often, we see sports writers penning eu Read Full Story >>>
PACQUIAO TO ATTEND WORLD BOXING CHAMPIONSHIPS IN DOHA; LADON TO SEE ACTION IN OPENING BOUT
By Ronnie Nathanielsz, PhilBoxing.com, Tue, 06 Oct 2015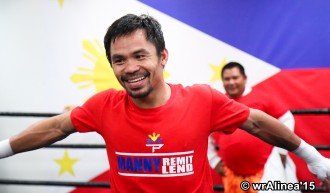 Eight division world champion Manny Pacquiao has agreed to squeeze in a quick trip to Doha, Qatar to attend the World Boxing Championships which were scheduled to get underway at around 7:00 p.m. Manila Time with Southeast As Read Full Story >>>
TANALLON AND PRONCO SET TO BATTLE IN GLAN
By Rene Bonsubre, Jr., PhilBoxing.com, Tue, 06 Oct 2015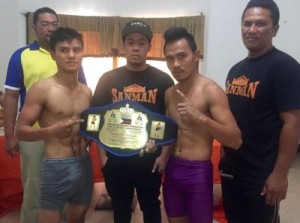 Ronie Tanallon of the Sanman Gym of Gen.Santos City will be pitted against Lester John Pronco for the vacant Philippine Boxing Federation (PBF) minimumweight crown on October 7. The protagonists both weighed 104 lbs d Read Full Story >>>
Fortune: Khan is a Wuss, Pacquiao F***ing KO's Him!
By Edward Chaykovsky, BoxingScene.com, Tue, 06 Oct 2015
Strength and conditioning coach Justin Fortune expects a brutal knockout if Amir Khan (31-3, 19KOs) steps in the ring with Manny Pacquiao (57-6-2, 38KOs). Pacquiao-Khan is being discussed for a possible fight in early 2016. Fortune worked with both fighters when they were stablemates at the Read Full Story >>>
Joel Diaz: "If Manny Pacquiao fights Amir Khan and loses to him, he has no more business in boxing"
By Jenna Jay, OTR Boxing Radio, Tue, 06 Oct 2015
Trainer Joel Diaz and WBO welterweight champion Timothy Bradley recently parted ways, news that surprised a lot of people, including Diaz himself. With that relationship over, Diaz looks to move forward with his current stable of fighters and his recent big name addition, Ruslan Provodnikov. In p Read Full Story >>>
AFTER FOUR ROUNDS OF SPARRING VILORIA AND NIETES ARE READY TO GO
By Ronnie Nathanielsz, PhilBoxing.com, Tue, 06 Oct 2015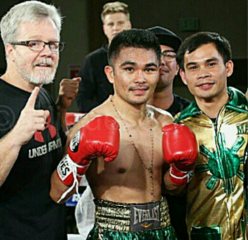 After four rounds of sparring with WBO light flyweight champion Donnie "Ahas" Nietes, former two division world champion Brian Viloria pronounces they are both "ready to go" on October 17 with Viloria facing the biggest chall Read Full Story >>>
SUDDEN RAIN BURST ENDS ALA FIGHTERS TRAINING (PHOTO / VIDEO)
By Ed de la Vega, DDS, PhilBoxing.com, Tue, 06 Oct 2015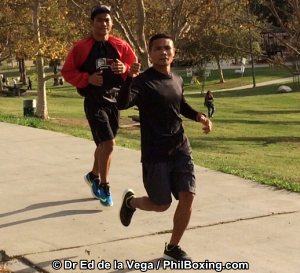 Today was a typical autumn day in LA. Hot at the peak of day and cold at night. Oftentimes is 85 degree F during the day and at night it dips to the low 60's. But that is all too common in LA. On top of that, occasional Read Full Story >>>
GREAT FIGHT CARD AT SOLAIRE ON NOVEMBER 14
By Ronnie Nathanielsz, PhilBoxing.com, Tue, 06 Oct 2015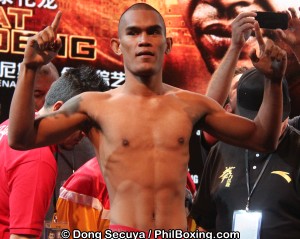 Palicte. MP Promotions USA LLC will stage a great fight card at the Solaire Hotel and Casino on November 14 featuring a battle for the WBO Oriental super flyweight championship and a WBO Pacific junior welterweigh Read Full Story >>>
Arizona Boxing News & Notes with Don Smith: Castro, Ramos and Lavalee Win, Oh, Marlene and News
By Don Smith, PhilBoxing.com, Tue, 06 Oct 2015
Boxing Fans, Iron Boy 27 presented 10 bouts at the Celebrity Theatre on September 26 and the majority of the bouts were entertaining and a testament to the organizational skills of Iron Boy Promotions who managed to overcome a few nixed bout matchups to deliver a show enjoyed by a part Read Full Story >>>
Gilas Pilipinas: Rich heart, poor shot
By Recah Trinidad, PhilBoxing.com, Tue, 06 Oct 2015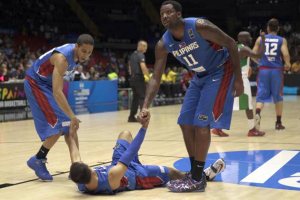 OUT in the Mandaluyong City wet market on Sunday, tireless sports enthusiast Buboy Sebreros said there was only one way the Philippinnes could beat China: Engage the Asian basketball stalwart in a single-quarter title match. Read Full Story >>>
Former Champion amateur Robbie Fletcher to meet Brent Moore on Oct 31
PhilBoxing.com, Tue, 06 Oct 2015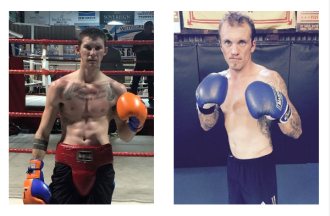 ROBBIE FLETCHER WAS ONE OF THE BEST AMATEURS AUSTRALIA HAS PRODUCED now he's taking the step into the pro ranks. On October 31 he will make his much awaited debut against Toowoomba's Brent Moore who is 1-0, in a four round m Read Full Story >>>
SHOWTIME SPORTS® TO PRESENT SEVEN LIVE BOXING TELECASTS IN EIGHT WEEKS TO CLOSE OUT 2015
PhilBoxing.com, Tue, 06 Oct 2015
Oct. 24: SHOWTIME BOXING INTERNATIONAL® Kell Brook vs. Diego Chaves Nov. 14: SHOWTIME CHAMPIONSHIP BOXING® Gary Russell Jr. vs. Oscar Escandon Nov. 28: SHOWTIME CHAMPIONSHIP BOXING James DeGale vs. Lucian Bute Dec. 5: SHOWTIME CHAMPIONSHIP BOXING Daniel Jacobs vs. Peter Quillin Plus Three Inst Read Full Story >>>
NBA -- Hornets sting Heat in preseason play
By Roman Garay, PhilBoxing.com, Tue, 06 Oct 2015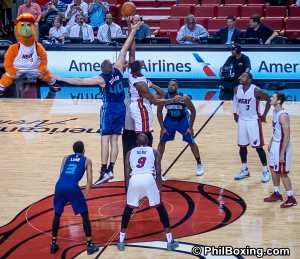 MIAMI -- The Miami Heat began their 28th preseason schedule with a 90-77 defeat at the hands of Southwest Division rivals the Charlotte Hornets on Sunday night at the American Airlines Arena. The Hornets guard proved to Read Full Story >>>
NBA - Lowry stars in Raptors' romp over Clippers
By Noel Salazar, PhilBoxing.com, Tue, 06 Oct 2015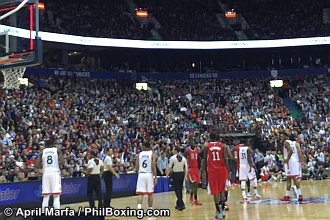 VANCOUVER --- Kyle Lowry proved to be too fast, too quick, and too good for the Los Angeles Clippers on Sunday night. The 6-foot, 205-pound guard, a 9-year veteran out of Villanova, sank 7-of-10 field goals for 26 po Read Full Story >>>
Boxing: Pacquiao to run for Philippine Senate
By Agence France Press, Strait Times, Tue, 06 Oct 2015
GENERAL SANTOS (AFP) - Philippine boxing hero Manny Pacquiao said on Monday he plans to run for a post in the influential Philippine Senate despite a lacklustre stint as a congressman. The star announced he will run as a candidate for the 24-seat upper chamber in May 2016, to mixed reactions from Read Full Story >>>
WEEKEND REVIEW Lucas Matthysse won't stand between Amir Khan and Manny Pacquiao
By John Dennen, BoxingNews, Tue, 06 Oct 2015
LUCAS MATTHYSSE has done Amir Khan a favour. His influential promoter Oscar De La Hoya was tipping his man to challenge Manny Pacquiao next, an idea which Pacquiao's promoter Bob Arum reportedly liked the sound of. After spending year's waiting for a tilt at Floyd Mayweather, which he was denied, Kh Read Full Story >>>
Jack Reiss: Coney Island Baby
By Dennis Taylor, Boxing.com, Tue, 06 Oct 2015
He is the third man in the ring for many of the biggest fights in boxing — most recently Postol's KO of Matthysse… If you've never trained for a fight, and if you've never been punched in the face, you don't belong in a boxing ring as the referee of a prize fight, says Jack Reiss, who has wo Read Full Story >>>
Jessie Vargas on Floyd Mayweather 50-0, possible Manny Pacquiao clash
By Phil D. Jay, World Boxing News, Tue, 06 Oct 2015
Former WBA super lightweight champion Jessie Vargas says Floyd Mayweather may regret his decision to retire if the pound for pound king doesn't come back for a 50th victory. Mayweather hung up his gloves with a routine performance against Andre Berto last month, having already announced t Read Full Story >>>
Lucas Matthysse was briefly blinded at knockdown, Golden Boy exec says
By Lance Pugmire, Los Angeles Times, Tue, 06 Oct 2015
Lucas Matthysse told his promoters after his surprising knockout loss to new World Boxing Council super-lightweight champion Viktor Postol that he was temporarily blinded by the 10th-round punch that knocked him down. "He was blind for about 10 to 20 seconds," said executive Eric Gomez, Golden Bo Read Full Story >>>
Why Miguel Cotto beats Saul Alvarez
BoxingNews, Tue, 06 Oct 2015
THE 34-year-old Miguel Cotto has been written off several times in recent years and seems to grow stronger as a consequence. People doubted he could recover from the 2008 pounding he took from Antonio Margarito, and the signs directed Cotto to the scrapheap after a peak Manny Pacquiao pummelled him Read Full Story >>>
PACQUIAO DECLARES SENATORIAL BID
By Aquiles Z. Zonio, PhilBoxing.com, Tue, 06 Oct 2015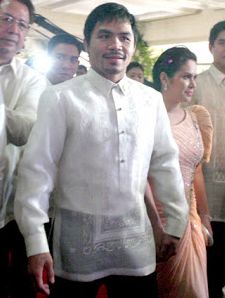 GENERAL SANTOS CITY – World eight-division boxing champion and Sarangani Rep. Manny Pacquiao publicly declared on Monday evening his intention to join the senatorial race in 2016 elections. Pacquiao made the announcement duri Read Full Story >>>
Dela Torre to fight Ellison Oct. 23
By Lito delos Reyes, PhilBoxing.com, Tue, 06 Oct 2015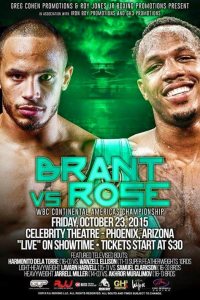 WORLD Boxing Federation world super featherweight champion Harmonito "Hammer" dela Torre of General Santos City will fight Wanzell "Venom" Ellison of New Jersey, USA on Oct. 23 at the Celebrity Theatre in Phoenix, Arizona. Read Full Story >>>
The Iceman Knocketh...OUT! Postol Quotes
PhilBoxing.com, Tue, 06 Oct 2015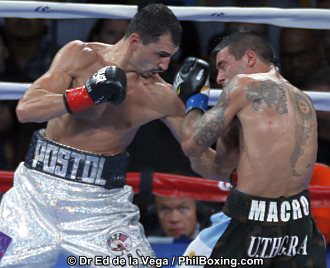 VIKTOR "THE ICEMAN" POSTOL KNOCKS OUT LUCAS MATTHYSSE TO CLAIM VACANT WBC SUPER LIGHTWEIGHT WORLD TITLE Replays Air Tonight! at Midnight ET/PT on HBO2®; Tomorrow! at 11:15 P.M. ET/PT on HBO® CARSON, CALIF. (Octob Read Full Story >>>
Shane Mosley -- I've Got Millions in the Bank ... But I'm No Mayweather
PhilBoxing.com, Tue, 06 Oct 2015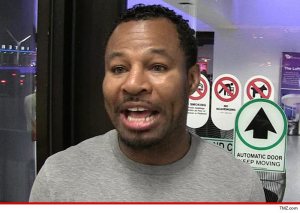 TMZ SPORTS -- Boxing was very, VERY good to Shane Mosley -- 'cause the guy has roughly $10 MILLION in the bank, which is awesome ... but nowhere NEAR the kind of money Floyd Mayweather rakes in. Mosley had to declare his Read Full Story >>>
"KUMBINASYON"


Filipino boxing legend Manny Pacquiao resumes his regular column at PhilBoxing.com and now Bandera to express his own thoughts and to be able to communicate to his fans worldwide.


Latest posts from the Forum...
Philippine time (GMT +8)

New members, please read the FORUM RULES before you post.
Not yet a member? Click HERE to register.


Blitzky22: NBA2K16 IS OUT!, 10:14 am, 10-07-15



Blitzky22: NBA2K16 IS OUT!, 10:13 am, 10-07-15



Blitzky22: NBA2K16 IS OUT!, 10:12 am, 10-07-15



theboxer69: NBA2K16 IS OUT!, 10:04 am, 10-07-15



noel3393: Mayweather: "the Philippines is fucked up", 9:22 am, 10-07-15



Retz: Weekly Fight Network boxing programming schedule (Oct. 5-11,, 9:21 am, 10-07-15



Retz: THE ICEMAN KNOCKETH…OUT!, 9:20 am, 10-07-15



Retz: Weekly Fight Network MMA programming schedule (Oct. 5-11, 20, 9:19 am, 10-07-15



Blitzky22: Henry Armstrong's career defends Pacquiao from PED suspicion, 9:17 am, 10-07-15



Blitzky22: Henry Armstrong's career defends Pacquiao from PED suspicion, 9:11 am, 10-07-15



Retz: VIDEO: Hey Harold!: Golovkin vs. Lemieux, 9:11 am, 10-07-15



Retz: VIDEO: Brook talks Chaves, plans to dominate 147lb division,, 9:10 am, 10-07-15



Retz: DANNY O'CONNOR VS. GABRIEL BRACERO II, RYAN KIELCZWESKI VS., 9:09 am, 10-07-15



Retz: Darleys Perez defends WBA Lightweight title against Anthony, 9:09 am, 10-07-15



Retz: Degale vs. Bute Nov. 28 in Quebec City on Showtime Champions, 9:05 am, 10-07-15



Retz: Kovalev to Return Very Early in 2016, Moscow Debut Postponed, 9:03 am, 10-07-15



ringobserver: Henry Armstrong's career defends Pacquiao from PED suspicion, 9:01 am, 10-07-15



Thunder_knuckles: Henry Armstrong's career defends Pacquiao from PED suspicion, 8:38 am, 10-07-15



Blitzky22: Henry Armstrong's career defends Pacquiao from PED suspicion, 7:42 am, 10-07-15



Fugazi: Mayweather: "the Philippines is fucked up", 7:14 am, 10-07-15



Fugazi: Mayweather: "the Philippines is fucked up", 7:13 am, 10-07-15



Lifer: CURRENT TREND FAVORS VILLORIA, 6:53 am, 10-07-15



phillyboxing: Kovalev to Return Very Early in 2016, Moscow Debut Postponed, 6:45 am, 10-07-15



phillyboxing: Degale vs. Bute Nov. 28 in Quebec City on Showtime Champions, 6:41 am, 10-07-15



AAU: NBA2K16 IS OUT!, 6:07 am, 10-07-15



AAU: NBA2K16 IS OUT!, 5:58 am, 10-07-15



Boxingvoice: Leo Santa Cruz: Top 6 Must Happen Fights of 2016, 5:50 am, 10-07-15



ringobserver: Henry Armstrong's career defends Pacquiao from PED suspicion, 2:49 am, 10-07-15



bugoyparin: Mayweather: "the Philippines is fucked up", 2:05 am, 10-07-15



klintshin: TKO Highlights! Adrian Broner vs Khabib Allakhverdiev Replay, 1:46 am, 10-07-15



klintshin: KO! Lucas Matthysse vs Viktor Postol Fight Replay Video, 1:46 am, 10-07-15



klintshin: KD! Mercito Gesta vs Miguel Angel Mendoza Fight REplay, 1:45 am, 10-07-15



phillyboxing: Darleys Perez defends WBA Lightweight title against Anthony, 1:39 am, 10-07-15



phillyboxing: DANNY O'CONNOR VS. GABRIEL BRACERO II, RYAN KIELCZWESKI VS., 1:34 am, 10-07-15



Durian Peña: Mayweather: "the Philippines is fucked up", 1:30 am, 10-07-15



noel3393: Mayweather: "the Philippines is fucked up", 12:03 am, 10-07-15



phillyboxing: 'Bang Bang' Blackwell brings big-time boxing back to Bristol, 11:56 pm, 10-06-15



noel3393: Pacquiao: I have 10,000 angels, 11:56 pm, 10-06-15



noel3393: Manny Pacquiao Is Out Of "Expendables 4", 11:45 pm, 10-06-15



noel3393: Mayweather: "the Philippines is fucked up", 11:44 pm, 10-06-15



phillyboxing: VIDEO: Brook talks Chaves, plans to dominate 147lb division,, 11:20 pm, 10-06-15



phillyboxing: VIDEO: Hey Harold!: Golovkin vs. Lemieux, 11:01 pm, 10-06-15



klintshin: KO! Lucas Matthysse vs Viktor Postol Fight Replay Video, 10:59 pm, 10-06-15



klintshin: KD! Mercito Gesta vs Miguel Angel Mendoza Fight REplay, 10:56 pm, 10-06-15



joeyj: * PROJECT World's Top 5- ELO 2800: GM Wesley So PHI *, 10:38 pm, 10-06-15



phlebotomist: Mercito Gesta vs Miguel Angel Mendoza Fight Replay, 9:54 pm, 10-06-15



phlebotomist: TKO: Adrien Broner vs Khabib Allakhverdiev Full Fight Replay, 9:52 pm, 10-06-15



phlebotomist: TKO: Lucas Matthysse vs Viktor Postol Full Fight Replay, 9:52 pm, 10-06-15



Romy Nabas: Mayweather: "the Philippines is fucked up", 9:07 pm, 10-06-15



dyey_em-si: Mayweather: "the Philippines is fucked up", 8:14 pm, 10-06-15



NonBiasBoxingAnalist: KD! Mercito Gesta vs Miguel Angel Mendoza Fight REplay, 6:50 pm, 10-06-15



Fugazi: Mayweather: "the Philippines is fucked up", 6:12 pm, 10-06-15



noel3393: Mayweather: "the Philippines is fucked up", 6:11 pm, 10-06-15



renego77: * PROJECT World's Top 5- ELO 2800: GM Wesley So PHI *, 6:02 pm, 10-06-15



gritsteel2: Coach Roach you are a genius!, 5:25 pm, 10-06-15



whoisthehumbleboxer: TKO Highlights! Adrian Broner vs Khabib Allakhverdiev Replay, 5:12 pm, 10-06-15



phillyboxing: Verdejo to return October 31, 5:07 pm, 10-06-15



whoisthehumbleboxer: KO! Lucas Matthysse vs Viktor Postol Fight Replay Video, 3:57 pm, 10-06-15



whoisthehumbleboxer: KD! Mercito Gesta vs Miguel Angel Mendoza Fight REplay, 3:56 pm, 10-06-15



boysalat: NBA2K16 IS OUT!, 3:13 pm, 10-06-15



whoisthehumbleboxer: KO! Lucas Matthysse vs Viktor Postol Fight Replay Video, 1:55 pm, 10-06-15



whoisthehumbleboxer: KD! Mercito Gesta vs Miguel Angel Mendoza Fight REplay, 1:54 pm, 10-06-15



pacvan: Mayweather: "the Philippines is fucked up", 1:26 pm, 10-06-15



gritsteel2: CURRENT TREND FAVORS VILLORIA, 1:05 pm, 10-06-15



dyey_em-si: Mayweather: "the Philippines is fucked up", 11:04 am, 10-06-15



joeyj: * PROJECT World's Top 5- ELO 2800: GM Wesley So PHI *, 10:24 am, 10-06-15



noel3393: Mayweather: "the Philippines is fucked up", 10:00 am, 10-06-15



shalom: * PROJECT World's Top 5- ELO 2800: GM Wesley So PHI *, 9:56 am, 10-06-15



listerine: Mayweather: "the Philippines is fucked up", 9:46 am, 10-06-15



Blitzky22: Coach Roach you are a genius!, 8:41 am, 10-06-15



Junorz: Coach Roach you are a genius!, 8:05 am, 10-06-15



phillyboxing: Weekly Fight Network MMA programming schedule (Oct. 5-11, 20, 7:17 am, 10-06-15



phillyboxing: Weekly Fight Network boxing programming schedule (Oct. 5-11,, 7:14 am, 10-06-15



noel3393: Mayweather: "the Philippines is fucked up", 6:52 am, 10-06-15



phlebotomist: Mercito Gesta vs Miguel Angel Mendoza Fight Replay, 6:51 am, 10-06-15



phlebotomist: TKO: Adrien Broner vs Khabib Allakhverdiev Full Fight Replay, 6:49 am, 10-06-15



phlebotomist: TKO: Lucas Matthysse vs Viktor Postol Full Fight Replay, 6:48 am, 10-06-15



Blitzky22: NBA2K16 IS OUT!, 6:36 am, 10-06-15



AnTararatan: NBA2K16 IS OUT!, 6:20 am, 10-06-15



phillyboxing: Video: Road to Golovkin/Lemieux: Full Show, 6:14 am, 10-06-15



phillyboxing: RISING STAR PRICHARD COLON FACES UNDEFEATED TERREL WILLIAMS, 6:13 am, 10-06-15



AAU: NBA2K16 IS OUT!, 6:00 am, 10-06-15



butchogeez: Slo-Mo Video Analysis Showing Mayweather beat Pac, 5:46 am, 10-06-15



phillyboxing: THE ICEMAN KNOCKETH…OUT!, 5:44 am, 10-06-15



klintshin: KO! Lucas Matthysse vs Viktor Postol Fight Replay Video, 5:35 am, 10-06-15



klintshin: KD! Mercito Gesta vs Miguel Angel Mendoza Fight REplay, 5:35 am, 10-06-15



klintshin: TKO: Lucas Matthysse vs Viktor Postol Full Fight Replay, 5:33 am, 10-06-15



Fists_of_Fury: Anyare sa La Maquina??, 5:13 am, 10-06-15



Thunder_knuckles: Slo-Mo Video Analysis Showing Mayweather beat Pac, 3:22 am, 10-06-15



Thunder_knuckles: Coach Roach you are a genius!, 3:06 am, 10-06-15



mauragon: CURRENT TREND FAVORS VILLORIA, 2:50 am, 10-06-15



pugakss: Coach Roach you are a genius!, 2:31 am, 10-06-15



pugakss: Coach Roach you are a genius!, 2:30 am, 10-06-15



Lifer: Coach Roach you are a genius!, 1:27 am, 10-06-15



Gamby Sucaldito: Mayweather: "the Philippines is fucked up", 12:36 am, 10-06-15



phlebotomist: Mercito Gesta vs Miguel Angel Mendoza Fight Replay, 11:22 pm, 10-05-15



Romy Nabas: Mayweather: "the Philippines is fucked up", 10:19 pm, 10-05-15



Durian Peña: Mayweather: "the Philippines is fucked up", 10:10 pm, 10-05-15



bugoyparin: Mayweather: "the Philippines is fucked up", 9:33 pm, 10-05-15



dyey_em-si: Mayweather: "the Philippines is fucked up", 9:25 pm, 10-05-15



NonBiasBoxingAnalist: KD! Mercito Gesta vs Miguel Angel Mendoza Fight REplay, 9:22 pm, 10-05-15



phillyboxing: HBO SPORTS® TO REPLAY GENNADY GOLOVKIN VS. WILLIE MONROE JR., 9:16 pm, 10-05-15



phlebotomist: Mercito Gesta vs Miguel Angel Mendoza Fight Replay, 8:52 pm, 10-05-15



phlebotomist: TKO: Lucas Matthysse vs Viktor Postol Full Fight Replay, 8:51 pm, 10-05-15



Gamby Sucaldito: Mayweather: "the Philippines is fucked up", 8:34 pm, 10-05-15



noel3393: Mayweather: "the Philippines is fucked up", 7:47 pm, 10-05-15



whoisthehumbleboxer: KO! Lucas Matthysse vs Viktor Postol Fight Replay Video, 7:28 pm, 10-05-15



whoisthehumbleboxer: KD! Mercito Gesta vs Miguel Angel Mendoza Fight REplay, 7:28 pm, 10-05-15



chiktoferken: Slo-Mo Video Analysis Showing Mayweather beat Pac, 6:21 pm, 10-05-15



phlebotomist: Lucas Matthysse vs Viktor Postol Fight Replay HBO Video, 4:18 pm, 10-05-15



phlebotomist: TKO: Adrien Broner vs Khabib Allakhverdiev Full Fight Replay, 4:18 pm, 10-05-15



Gamby Sucaldito: Mayweather: "the Philippines is fucked up", 3:56 pm, 10-05-15



noel3393: Mayweather: "the Philippines is fucked up", 3:54 pm, 10-05-15



superlike: Slo-Mo Video Analysis Showing Mayweather beat Pac, 3:51 pm, 10-05-15



kissmark88: Mayweather: "the Philippines is fucked up", 3:36 pm, 10-05-15



Dax Inc: Slo-Mo Video Analysis Showing Mayweather beat Pac, 3:05 pm, 10-05-15



whoisthehumbleboxer: KO! Lucas Matthysse vs Viktor Postol Fight Replay Video, 2:52 pm, 10-05-15



whoisthehumbleboxer: TKO Highlights! Adrian Broner vs Khabib Allakhverdiev Replay, 2:51 pm, 10-05-15



phillyboxing: Frozen machinery, 2:49 pm, 10-05-15



phlebotomist: TKO: Adrien Broner vs Khabib Allakhverdiev Full Fight Replay, 2:49 pm, 10-05-15



phlebotomist: Mercito Gesta vs Miguel Angel Mendoza Fight Replay, 2:47 pm, 10-05-15



lytbendah: Slo-Mo Video Analysis Showing Mayweather beat Pac, 2:43 pm, 10-05-15



Durian Peña: Slo-Mo Video Analysis Showing Mayweather beat Pac, 2:24 pm, 10-05-15



whoisthehumbleboxer: TKO Highlights! Adrian Broner vs Khabib Allakhverdiev Replay, 2:13 pm, 10-05-15



Durian Peña: Mayweather: "the Philippines is fucked up", 2:13 pm, 10-05-15



whoisthehumbleboxer: KD! Mercito Gesta vs Miguel Angel Mendoza Fight REplay, 2:11 pm, 10-05-15



whoisthehumbleboxer: KO! Lucas Matthysse vs Viktor Postol Fight Replay Video, 2:11 pm, 10-05-15



Durian Peña: Mayweather: "the Philippines is fucked up", 2:07 pm, 10-05-15



phlebotomist: TKO: Adrien Broner vs Khabib Allakhverdiev Full Fight Replay, 2:07 pm, 10-05-15



Bolshoi: Lucas Matthysse vs Viktor Postol Fight Replay HBO Video, 1:52 pm, 10-05-15



pacvan: Mayweather: "the Philippines is fucked up", 1:46 pm, 10-05-15



noel3393: Mayweather: "the Philippines is fucked up", 1:42 pm, 10-05-15



j0shua^^: Anyare sa La Maquina??, 1:38 pm, 10-05-15



whoisthehumbleboxer: KO! Lucas Matthysse vs Viktor Postol Fight Replay Video, 1:07 pm, 10-05-15



whoisthehumbleboxer: KD! Mercito Gesta vs Miguel Angel Mendoza Fight REplay, 1:06 pm, 10-05-15



Phenom888: Slo-Mo Video Analysis Showing Mayweather beat Pac, 1:06 pm, 10-05-15



tu_pac2k15: Lucas Matthysse vs Viktor Postol Fight Replay HBO Video, 12:45 pm, 10-05-15



tu_pac2k15: Anyare sa La Maquina??, 11:40 am, 10-05-15



phlebotomist: Lucas Matthysse vs Viktor Postol Fight Replay HBO Video, 11:35 am, 10-05-15